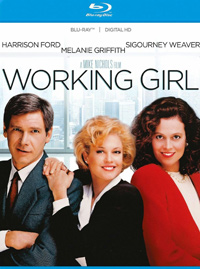 Arriving for the first time on Blu-ray is the 1988 classic gender politics rom-com Working Girl. Famous for giving us Melanie Griffith her most iconic role and it's Oscar winning track "Let the River Run" by Carly Simon, the film was director Mike Nichols' return to box office and awards success following the lesser celebrated Heartburn (1986) and Biloxi Blues (1988). And it would be his last Oscar nod for Best Director.
The Wall Street Cinderella story (a template writer Kevin Wade would retool once again in 2002 for Maid in Manhattan) begins in the secretarial pool, where ambitious and intelligent Tess McGill (Melanie Griffith) wishes to rise above her station and snag a ticket up the corporate latter. Having no fear of battling her way through a masculine sea of privilege, including not being afraid to act out after having been pimped off by her boss (Oliver Platt) to a high roller in Arbitrage (Kevin Spacey), Tess' luck seems to change when placed in Mergers & Acquisitions under the tutelage of the coolly patronizing Katherine Parker (Sigourney Weaver). Though her home life is in shambles after she finds beau Mick (Alec Baldwin) in bed with an acquaintance, and only her friend Cyn (Joan Cusack) emotionally supporting her, a chance accident lands Katherine in traction for six months in the Swiss Alps. This leads Tess to discover that Katherine stole a brilliant business idea Tess had brought to her attention. Angry and frustrated, Tess poses as a partner in Katherine's firm and attempts to put the project in motion herself with the help of a hotshot at another firm, Jack Trainer (Harrison Ford).
Many of its interoffice gendered angles seem incredibly dated, but Nichols and screenwriter Kevin Wade (in what would be, by far, the best screenplay he'd come to write) aren't attempting to craft the film within a prophetic frame. If it doesn't play with issues of class very subtly, it's a film ripe for reexamination as far as its gender and equality standpoint, representing an era when the tides were slowly starting to turn in the right direction. While it may read as a film that prizes women keeping women down, it's more of an exercise in fending for oneself and placing trust in no one based solely on labels and stereotypes. More than a story of a woman finding her voice, Working Girl deals head on with workplace inequality with its title, as Griffith's Tess must discover not just her own voice, but the one that's going to secure a navigation into the elitist ranks she wishes to ascend.
Looking back at its use of Griffith, daughter of Tippi Hedren, already a presence in film for years, the role is a unique peak for the blonde star, morphed into what reads like the Brooklyn version of Marilyn Monroe. She's unlikely at first, simply a porcelain face centered by a fan of tacky hair and jangly jewelry. And yet, imperceptibly, she becomes a protagonist we begin to care for deeply, and Griffith nails a sort of endearing quality that she never quite mastered again (and it would be, to date, her only Oscar nomination). Previously, Griffith was best known as a sex bomb, appearing in De Palma's Body Double, Demme's Something Wild, and Ferrera's Fear City. In more ways than one, Working Girl is about a woman reinventing herself in a legitimate bid to be taken seriously. (Ironically, we wonder if Griffith's daughter Dakota Johnson will face a similar career trajectory after Fifty Shades of Grey).
While she's the winning center of the film, she gets great support from leading man Harrison Ford and Sigourney Weaver as the viperous boss. The role of Katharine Parker could easily have been a complete throwaway role, but Weaver steals most of the film's laughs. She's monstrous, easy to hate, a larger than life control freak of expert manipulation that feeds into famed personifications of 80s power women, like the Wall Street version of Mommie Dearest, and it would earn Weaver one of her two Oscar nods at the 1988 Academy Awards.
Disc Review
Twentieth Century Fox didn't invest a lot of extra effort in its packaging, and the disc plays like a Plain Jane transfer, presented in the original aspect ratio 1.85:1. Audio seems fine, though there's no getting around the blaring Carly Simon track that gets burned into your psyche after watching the film. Extra features are nil, except for a theatrical trailer and lots and lots of subtitle options.
Final Thoughts
It's great to see Nichols' Working Girl come to Blu-ray, following the auteur's unexpected passing in November, 2014. In the years following its reception (anyone remember that 2007 Jessica Simpson remake, Blonde Ambition?), we've learned that Griffith was the uneasy odd-man-out on set, which may explain why there's not a lot of rosy tinted banter trailing the film. Notably, Sigourney Weaver became the first actor ever to lose out on dual Oscar nods (for this and Gorillas in the Mist, though she would snag both Golden Globes that year), and the film remains representative of a joyful period in the age of excess' economic boom that helped quicken the pulse of import surrounding equality in the workplace. Though the landscape has changed considerably since this 1988 rhetoric, Nichols' film still manages to be a buoyant, emotionally gratifying underdog story, one that manages to be touching despite any of its minor follies (such as a dependence on convenience in several sequences).
Film: ★★★★/☆☆☆☆☆
Disc: ★★★½/☆☆☆☆☆