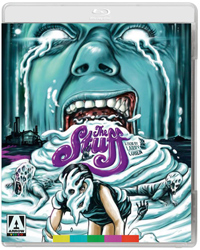 At long last, Arrow Video releases the stateside restored version of Larry Cohen's 1985 cult classic, The Stuff, previously available only in the UK as of 2014. It is, perhaps, the genre auteur's most prolific item from the 1980s, if slightly less beloved than creature feature Q: The Winged Serpent (1982), both titles featuring an intrepid Michael Moriarty. Broad political subtexts arguably abound in what's basically a B-grade genre effort with a variety of inspired gross-out special effects utilizing a mass hysteria device as vaguely defined as its design is predictably familiar. Still, like most of Cohen's most delirious efforts, even the most timeworn end products are entertaining, even with this inevitable drive-in quality pay-off here, which owes a lot to several genre classics preceding it.
A delicious, gooey substance discovered oozing from the earth is funneled into a large factory and blasted into supermarkets sold to the public as a new dessert craze called 'The Stuff.' Except, not only is the white sweetness highly addictive, it seems to turn those who eat it into strange versions of themselves, causing folks to act violently towards people who aren't also partaking in its oral joys. Jason (Scott Bloom) watches in horror as his whole family succumbs to the toxic substance, forcing him to flee his home. He links up with Mo Rutherford (Michael Moriarty), an ex-FBI agent turned corporate saboteur who has been suspicious of the mysterious dessert since its inception on the market. Tapping the assistance of Nicole (Andrea Marcovicci), the marketing guru who coined the name and helped ensure the inspired product placement via a successful jingle commercial, Rutherfood sets out to put a stop to the takeover.
Without a doubt, The Stuff is reminiscent of hostile alien takeover classics like Invasion of the Body Snatchers, teens in peril from gelatinous leviathan a la The Blob, and the old-fashioned capitalistic solution to overpopulation via consumer products in Soylent Green (1973). But Cohen updates the treatment effectively for the mid-80s, crafting The Stuff into a parody of profit and ironically using the person responsible for marketing the toxic product to the masses as one of those charged with reversing public opinion.
As usual, Cohen does an exceptional job culling believable (or at least, entertaining) performances from his actors, the cast here often tasked with navigating particularly chewy dialogue. Michael Moriarty fares a bit better here than in Q, allowed to be more of cocky anti-hero initially. Andrea Marcovicci has a harder time conveying a wooden character we're introduced to while she is in the midst of filming more propaganda for 'the stuff,' unbelievably interrupted by Moriarty on no foreseeable authority other than he asserts himself as a man taking charge. Danny Aiello appears briefly in an interesting sequence, while Paul Sorvino shows up late in the film as an over-the-top army colonel. Likewise, a sort-of unnecessary Garrett Morris (in a role initially intended for Arsenio Hall, apparently) turns up every now and then, though is distractingly authorized to inform of us his unfortunate moniker, Chocolate Chip.
Cohen has always been a pro at lo-fi special effects and a certain gritty texturing thanks to his guerilla style filmmaking, and although there are several glaring instances announcing the meager budget, The Stuff is often effectively personified visually, even if it never seems to pose any real problem when it advances on victims like rapidly moving Cool Whip (in actuality, it was made up of mashed up fish bones). What's more effective is the suggestion of what it does to people ingesting it, especially after knowing it's just bubbling up from the bowels of the earth from some isolated pit. Cohen reunited with DP Paul Glickman (who previously lensed Perfect Strangers and Special Effects, as well as Cohen's bizarro masterwork, God Told Me To…)
Disc Review:
Arrow Video gives the schlocky title a much needed face lift with this new high definition restoration (taken from a new 2K scan of the original camera negative). The result is a superb transfer in picture (1.85:1) and sound quality (1.0 mono). As usual, the label packs its special edition release with anticipated extra features, plus a collector's booklet and reversible sleeve.
Can't Get Enough of The Stuff:
A 52-minute documentary on the making of the film features Cohen (who admits most of his ideas come to him while in the shower), producer Paul Kurta, actress Andrea Marcovicci, mechanical make-up effects creator Steve Neill and critic Kim Newman.
Darren Bousman Trailer Commentary:
Director Darren Bousman (Saw II and Saw III) provides an introduction and audio commentary for the original theatrical trailer for The Stuff.
Final Thoughts:
Though The Stuff isn't as effective as Cohen's more heralded titles (including the first installment of his It's Alive trilogy), it has all the hallmarks of his perverse sense of eco-terror.
Film Review: ★★★/☆☆☆☆☆
Disc Review: ★★★★/☆☆☆☆☆