Tuesday Blus: Get into Sacha Guitry with Four Films 1936-1938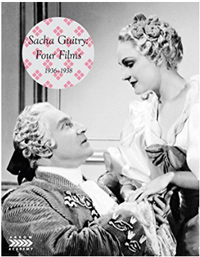 Oft compared to British playwright Noel Coward (most likely because he's the closest composite in the English-speaking hyper-articulate realm), France's Sacha Guitry rose to cinematic prominence in the age of the talkie. Starring in many adaptations of his own plays in the 1930s, Guitry was a celebrated wordsmith whose reputation eventually became tarnished by the specter of Nazi collaboration during the Occupation, which would significantly affect not only his reputation but his filmography. Although Guitry worked steadily through the 1950s, his later works were not the frivolous bon mots of the 1930s (as is evidenced by the wickedly entertaining indictment La Poison, which was recently resurrected by Criterion). The aftereffects of WWII would also deny Guitry prominent festival attention (only 1936's Story of a Cheat and 1937's The Pearls of the Crown, which won Best Screenplay at the Venice Film Festival, would compete on any platform in this fashion).
Arrow Academy releases four minor Guitry titles for the first time from his effervescent golden era, all released between 1936 and 1938 (he actually released eight titles altogether between these two years). Taking center stage in all four, Guitry lords over his revolving cast members with relish. Of the four, 1938's Let's Go Up the Champs-Elysees plays as the slightest entry in this set, which features Guitry as a school-teacher who becomes Louis XV in his replay of historical references to France's most infamous street. Guitry's treatment plays similarly to early works of Woody Allen, like Love and Death (1975) or Everything You Always Wanted to Know About Sex *But Were Afraid to Ask (1972) in its frivolous vignette structure.
The other three titles play with cultural expectations of sex, gender, and social norms. Infidelity, rather than amour fou, tends to be the crux of Guitry's interests. In Let's Make a Dream…., the married Guitry is carried away by his attraction to a young woman (who is unnamed, like all the female characters here) played by Jacqueline Delubac, who appeared in many of his features. Things get complicated when her own husband shows up after she decides to spend the night with Guitry…but not exactly because he's looking for her.
In My Father Was Right, Guitry swears off women completely when his wife leaves in order to conserve their family's social standing as he raises his son, which creates a rather stifling impression of women and what to do with them in the young boy. This is juxtaposed by the opening framing device, which includes Guitry being schooled by his own father (the story was apparently written by Guitry and his father, the famed actor Lucien Guitry), an old codger who urges his son to have as many women as possible in a grand hedonistic tradition. Women are featured merely as options to be taken or ignored.
And the real jewel of the set is 1936's The New Testament, the most ambitious narrative of the four, which features Guitry has an adulterous doctor who is similarly being cuckolded by his wife (Betty Daussmond). Just as he hires a beautiful new secretary, Julie Lecourtois (Jacqueline Delubac), whose youth and beauty annoy his wife to no end, a strange occurrence suggests the doctor might have been killed when he doesn't show up to a dinner party they're throwing. When what looks like a last will and testament is found in his dinner jacket, his wife reads it aloud to company and discovers he has a secret daughter, with the last name Lecourtois, whom he plans to leave a sizeable inheritance to. Also, the will confirms he knows of his own wife's infidelity. However, just as the group begins to segue from alarm to disdain for the good doctor, he shows up at home…
In some respects, this new collection from Arrow plays like the B-side of a 2010 Eclipse box-set which refurbished four more notable titles from the same period on Guitry's resume. Although entertaining, several of these tend to bleed into one another tonally and thematically to the extent they're difficult to differentiate.
Disc Review:
This limited-edition release from Arrow Academy (1500 copies) is presented in 1.37:1 high definition with 1.0 mono soundtrack. Picture and sound quality are alright considering the age of the titles, but there is a high degree of wear and tear on these initial prints which weren't really cleaned up for the release. Several extra features manage to heighten an appreciation for the titles including and introduction selected scene commentaries by French cinema expert and academic Ginette Vincendeau and a sound test for Let's Make a Dream…
Philippe Durant:
Film critic Philippe Durant presents four short videos on Guitry's representation on several subjects, including children in "Mon fils avait raison," women in "Creatures feroces," the use of the telephone in "Ne quiettez pas," and his way with words in "L'Email des mots."
Pascal Thomas on My Father Was Right:
Director Pascal Thomas (Les Zozos, 1973; La Dilettante, 1999) discusses Guitry's title in this seven-minute feature who cites the man who many New Wave directors looked to for inspiration.
Francis Veber on Let's Make a Dream…:
Director Francis Veber (The Dinner Game, 1998) discusses Guitry's title in this eight-minute feature, who views Guitry as a contradiction considering he was illiterate until the age of seventeen.
The New Testament: ★★★/☆☆☆☆☆
My Father Was Right: ★★½/☆☆☆☆☆
Let's Make a Dream: ★★½/☆☆☆☆☆
Let's Go Up the Champs-Elysees: ★★½/☆☆☆☆☆
Disc Set: ★★★½/☆☆☆☆☆