Tuesday Blus: A Child is Waiting in Najafi's Action Ms.-Fire | Proud Mary (2018)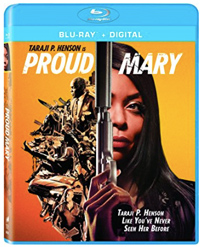 If blaxploitation had been granted the opportunity to morph into characterless soap opera, it would have been a movement populated by the likes of Proud Mary, a risible attempt to launch "Empire" star Taraji P. Henson into action star status (a distinction which usually excludes women and people of color). Leaving behind the problematic dynamics of blaxploitation film (which did grant us the iconic Pam Grier, at the very least), black women positioned as action stars are few and far between, and prior to recent turns from Lupita Nyong'o or Danai Gurira, a few directors attempted to elevate Angela Bassett into this territory. As the success of every mainstream endeavor starring a person of color is considered evidence for future ventures, this Screen Gems title did rake in twenty million at the box office (usurping its fourteen-million-dollar budget).
The Iranian bourn Babak Najafi rose to prominence in Sweden with his lauded 2010 debut Sebbe, which landed him the opportunity to direct Easy Money II: Hard to Kill, the follow-up to Daniel Espinosa's well-received first film. Najafi made a similar move with his English language debut with London Has Fallen (2016), the sequel to Antoine Fuqua's presidential peril flick Olympus Has Fallen (2013). A script from John Stewart Newman ("Get Shorty," 2017), Christian Swegal, and Steve Antin (Burlesque, 2010), however, takes its heavy lifting from something like the classic John Cassavetes film Gloria (1980) in how a hard-hearted woman's resolve is softened in the face of protecting a child who is not her own. After murdering Danny's Jahi Di'Allo Winston) father as part of an assigned hit, Mary (Henson) feels responsible for his welfare. Keeping tabs on the youth from a distance, she is forced to intervene when he becomes associated with deadly Russian mobsters. But her involvement generates a deadly ripple effect which will force her to question her allegiance to a family which has given her everything she has.
While DP Dan Lausten's lensing reduces Boston to a monochromatic television production (and doesn't seem interested in doing the film's leading lady any real favors), the casting director's questionable choices meant Najafi had his work cut out for him. Danny Glover is ludicrously out of place as the head of a lethal mob syndicate, and Najafi seems equally unable to rightly direct Jahi Di'Allo Winston as Henson's young ward. But the real issue here is Henson, who, in her defense, doesn't have the best material to work with. Taking her cues more from her morose wardrobe than the character arc outlined in the script (ruthless mobster aching to get out of the business and lead a normal life), Henson neither looks nor acts the part believably. Corny bonding, insincere dramatic twists, and a legion of confounding stylistic and narrative choices makes Proud Mary a minor camp misfire (and one which egregiously abuses the famed 1971 Ike & Tina Turner's cover of the CCR song).
Disc Review:
The Sony/Screen Gems property is released in 2.39:1 with 5.1 DTS-HD Master Audio. This transfer is nothing exceptional, and neither are a trio of extra features deliberating Henson's character ("Mary's World"), her wardrobe ("If Looks Could Kill)," or the film's worldview ("The Beginning of the End"), all of which suggest Najafi (who doesn't appear in these sequences) may have been railroaded by some overzealous producers who sound as if they're talking about another film entirely.
Film Review: ★/☆☆☆☆☆
Disc Review: ★★★/☆☆☆☆☆