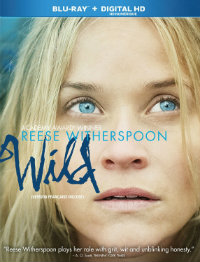 Grossing just under forty million domestically and scoring two Academy Award nominations (for its actresses Reese Witherspoon and Laura Dern), Wild arrives on Blu-ray on it's cushion of critical acclaim. French-Canadian director Jean-Marc Vallee's follow-up to the 2013 The Dallas Buyers Club is less problematic in its examination of a notable real life personality, but follows his verve to chart descent and ascent as juxtaposition on a linear, clearly defined timeline. Though Witherspoon's sometimes showy performance tends to feel a bit too glossy, even if just for its ability to seem like predictable awards consideration fodder, the film succeeds in surprising ways both in how it tries to address the realities of sexual addiction to mask emotional pain and as an excellent showcase for the too often underrated Dern.
Arriving at the end of star Witherspoon's auteur binge is one of her most rewarding turns in years. Based on Cheryl Strayed's bestselling memoir, Vallee's follow-up to the crowd pleasing and hopelessly problematic The Dallas Buyers Club, this 'based' on a true story is a much safer bet as far as lack of exaggeration and blatant use of liberties taken to enhance the dramatic effectiveness (in other words, many of the characterizations here might actually be based on real people). Frank in its portrayals of both sexual content and drug situations of its protagonist without ever demonizing or labeling her predicament as anything more than a loss of control born out of abject grief and longing, it's clearly a genuine portrayal of a woman undergoing an extreme ordeal in order to wrestle with her issues and connect with herself in ways that are relatable and understandable.
Shown tearing a toenail off her wounded foot, we meet Cheryl Strayed (Witherspoon) after she's begun her journey hiking across the Pacific Coast Trail. Flashbacks and memories begin to feel in the details that explain why she's on her lonesome on a formidable trek that not many women venture into, a detail that seems to cause a stir with whomever she comes across, whether that is awe, flirtation, or dangerous titillation. We learn that she was raised by a single mother (Dern) along with her brother after they fled an abusive father when they were young. As mom returned to higher education at the same time her daughter attended college, she received a deadly diagnosis of terminal cancer and she passed away. The loss caused great turmoil in Cheryl, who spiraled out of control into drugs (heroin) and promiscuity, forcing her husband of seven years to divorce her. Leaving Minneapolis for Portland, several other dire instances force her to decide to fling herself into Mother Nature's bosom in order to regain control of her life.
Basically, the film is a self-imposed walkabout, utilizing memories and flashbacks effectively to juxtapose Strayed's arduous experience, which would seem less involving without such context (and could have very well seemed like a moment in the film when St. Patty's day revelers mock the sad-faced young woman who just left her dying mother in the hospital). Sure to garner awards attention for the dominating performance of Witherspoon, who does imbue Cheryl Strayed with a resilient yet endlessly melancholic streak, it will stand as a definite highlight in Witherspoon's filmography, ending a stretch of less noticeable turns in works by Philippe Falardeau, Jeff Nichols, Paul Thomas Anderson, and Atom Egoyan. But as steadfast as she is, Witherpsoon is equaled by a great performance from Laura Dern, existing solely in her daughter's troubled memories.
While Dern is only nine years Witherspoon's senior, a fact at first distracting, a handful of emotionally powerful sequences dispel some of the more grating details. Nick Hornby's screenplay generally does a fine job of administering its doses of pathos in subtle fashion, but sometimes gets blatant as when Witherspoon runs into a small boy and his grandmother, and the young lad sings a sweet song that seems included only to wring tears out of the most resolute audience members. Or a group of young male hikers that hold Strayed in reverence, bonding a bit too obtusely between themselves in a bid to lend the film a bit of levity.
As in Dallas, Vallee places a set of date markers in the film to denote Cheryl's journey. It's less obtrusive here than in his previous film, but her constant quotations which she writes down in journals for hikers along the trail tend to feel a bit too conveniently on point, nailing the eternal words of Emily Dickinson, Robert Frost and even James Michener into the fabric of the film's wisdom. Sometimes, simplicity makes for a most evocative and emotional journey, and Vallee's Wild is successful in that regard.
Disc Review:
Presented in widescreen 2.40:1, Fox's Blu-ray package connotes the celebratory attitude towards the title, and it's rendering of the Pacific Crest Trail indeed retains impressiveness in the transfer. However, the disc also allows more time to examine just how distracting several flashback sequences are, where Witherspoon is attempted to me made young enough to appear to be Dern's daughter. Otherwise, the package is full of extra features, several worthy of a look.
The Real Cheryl Strayed:
An eight minute feature finds the real Cheryl Strayed speaking of her experiences on the trail and the making of this film.
The Real Location is the Best Location:
At nearly nine minutesm this feature explores cast and crew snippets concerning the location shooting (Portland stood in for Minneapolis).
How Much Does a Monster Weigh?
A four minute feature finds Strayed and the producers explaining the pack that accompanied Strayed on her walk, which weighed 70 lbs.
The Pacific Coast Trail Interactive Map:
An interactive feature navigates you through Strayed's journey across the Pacific Crest Trail.
Deleted Scenes (with optional commentary from Jean-Marc Vallee):
Seven minutes of cut footage are included, all featuring Witherspoon, and many of them bits cut from her walk on the trail.
Seven Promotional Featurettes:
Seven features, each several minutes in length go into greater detail about the process of the film, including "Bringing the Book Into the Wild," "Reese Witherspoon in the Wild," "Wild: 94 Days, 1100 Miles," "Directing Wild," "Making Wild," "Pacific Crest Trail," and "Real Locations."
Experiencing the PCT: A Special Message from Cheryl Strayed:
A two minute message from Cheryl Strayed explains the experience of hiking the Pacific Crest Trail,
Final Thoughts:
Though scenic, the emotional journey of Wild may seem less compelling than more tragic true life tales, and the presence of Witherspoon does add a wistful twinge for those that remember A Far Off Place (1993), fans of Strayed's memoir should certainly feel pleased with the final product since it makes an attempt to remain persuasively honest.
Film: ★★★½/☆☆☆☆☆
Disc: ★★★½/☆☆☆☆☆