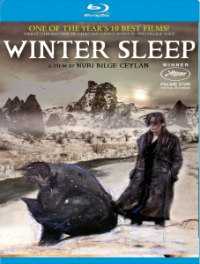 Despite director Nuri Bilge Ceylan's lauded history with Cannes, having twice received the festival's second-place honor, the Grand Prix for 2002's Distant and 2011's Once Upon a Time in Anatolia and won the Best Director prize for 2008's Three Monkeys, the Turkish filmmaker  was shocked when it was announced he and his film Winter Sleep had won the Palme d'Or. Perhaps he assumed that the breathless stream of dialogue that propels the film through its monolithic 196 minute running time might put off or frighten people away. Some critics did indeed find the film too long and emotionally distant, including The New Yorker's Richard Brody who said, "Ceylan paces this thin dramatic sketch as if it were a Wagner opera, with ponderous pauses and fraught gazes yearning toward depths that the movie doesn't reach," but where Brody fails to appreciate the incredible subtleties of tension that simmer throughout the film, he's not wrong in his understated observation of the lack of cinematic drama.
Ceylan's latest is a work of intellectualized dialogue and reserved performance that encompasses the very nature of intellectualization itself, how it serves to inform one's perspective on life, as well as its use as a tool of intimidation, shaming and control. The topic is a double edged sword that could have been turned against its writers, the director and his wife Ebru, who were inspired by the works of Anton Chekhov, yet they never fall to their own wit.
Their screenplay follows the increasingly discomforting relationships of Aydin (Haluk Bilginer), a former actor turned hotelier now well off and semi-retired, in his spare time writing a local column while putting off his own central writing project, a history text on Turkish theater. After the son of one of his tenant's breaks the window of his SUV in an act of revenge after his alcoholic father was disgraced for not paying his rent in the opening scene, tensions slowly rise over the hours to come. Pent up frustrations between siblings and spouses tensely build in seething spouts of reproach that not only come across as visceral charactorial criticisms, but caustic moral conundrums. Impressively, their relationship issues are pinpointed by heady hypotheticals and debates of personal principles that are slowly revealed as minor jabs dig in.
But despite the shock and awe that comes and goes as these grandiose conversations develop and devolve, Ceylan's visual style comes to a cross cutting stand still. Though lavishly placed in dimly lit and seriously lived-in interiors, characters often sit stationary while the camera cuts back and forth as they trade verbal blows. While the conflicts are indeed impressive rhetorical bouts the bloom thanks to the reserved set of physical performers who line the film with memory branding facial expressions (both Bilginer and Melisa Sözen, who plays his wife, Nihal, with acute emotional resonance), but one can't help but expect a bit more narrative staging that might serve the story while stifling our boredom. It is this visual blandness that keeps Winter Sleep, with it's stunningly written grandiose philosophical arguments and impressively composed performances from from becoming the truly great film that it could have been.
Disc Review:
It's tragic to see the Palme d'Or winner being treated to such a paltry home release, seemingly dumped on a disc by Adopt Films and simply forgotten about. Though the HD transfer of the film looks quite lovely in and of itself, the specs list a single special feature in the films only available audio selection – a passable 5.1 surround track that is anything but special. Unlike Cinema Guild's lavish treatment of Once Upon a Time in Anatolia, which rightly came with a wealth of interviews, video essays and making of featurettes about the film, Winter Sleep gets no critical thought or embellishments whatsoever. Not even a trailer. For shame!
Final Thoughts:
Past experiences with Ceylan's films had my hopes set quite high, and while I wasn't necessarily disappointed, it's obvious why there was such a critical divide upon the film's premiere. There is great density within the richly spoken dialogue that endlessly flows throughout the film, but it's almost as if the ideas that flourish through spoken thoughts end up nearing drowning the purely cinematic aspects of the film. Despite this, Winter Sleep works well, but it might work even better for the stage.
Film: ★★★/☆☆☆☆☆
Disc:       ★/☆☆☆☆☆