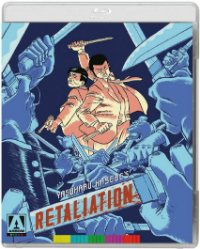 Prior to helming a trio of the Meiko Kaji starred Stray Cat Rock series, the fourth and final film in the Female Convict Scorpion series, or a number of violent pink films after Nikkatsu studios slid into the gutter of softcore porno flicks, director Yasuharu Hasebe began his career with a trio of yakuza action quickies featuring budding genre standbys Jô Shishido and Akira Kobayashi. The second and third, 1967's Massacre Gun and 1968's Retaliation, respectively, have been lovingly released for the first time on home video by Arrow Video, restoring bit by bit Hasebe's rather spotty oeuvre by highlighting his knack for stylish economy in his early work.
Essentially a downbeat yakuza film that covers all the basics in warring gangs over territory and reputation, Retaliation is unique in that it also dabbles in enemy bromance and the inevitable overtaking of nature by the unstoppable force of industry. The film begins with the release of Kojiro (Kobayashi) after a stint in prison. He's immediately accosted by Hino (Shishido), the brother of the man he was locked up for killing, but walks away with a oath of revenge over his head. When he finally returns home, he finds that his gang has all but dispersed.
Kojiro is shortly offered a position from a neighboring gang in which he is tasked with infiltrating a small village, pitting existing gangs in the territory against one another in an effort to take over. Hino follows along as a sort of rogue partner, dumping his girlfriend played by Meiko Kaji in the process, while Kojiro convinces the local farmers to sell their land before the local gangs essentially thumb them out of the picture through violence and intimidation, but when the deal final goes through, all hell breaks loose as loyalties lose their pretenses – and most oddly, Hino and Kojiro develop a strangely admirational relationship despite their former tensions.
While firearms obviously featured prominently in Massacre Gun, blades are the weapon of choice here. Swathes of gang members are stabbed, slashed and hacked in high energy combat filmed with roving athleticism by cinematographer Muneo Ueda. Figures are continuously framed through structural peek holes and over the growth of sprouting grass, trees, and rice, constantly reminding us of the environmental impact these rather vile humans are playing on their communities. Strictly out of greed and faux self esteem, wholesome families are intimidated, their daughters raped and their land stolen out from underneath them, the camera taking it all in like a predatory peeping tom.
Though exciting, cynical and narratively convoluted in turn, Hasebe's depiction of the yakuza lifestyle is less than glamorous. Gang members swarm in seething acts of violence over the smallest of quibbles, wreaking havoc wherever the wind takes them. With so many minor characters cropping up and being laid to waste, its hard to keep track of which gang is committing which treachery against another, but none-the-less Retaliation remains good genre fun thanks to charismatic performances and Ueda's dynamic camera work.
Disc Review:
The second of two Yasuharu Hasebe films to be lavishly released in dual formats by Arrow Video, Retaliation looks quite nice in HD. With very minimal visual scratches and defects, the film retains a solid amount of film grain and a natural looking color palette. There are moments when the film's low-budget filters through in some out of focus shots and ultra soft cinematography, but that is a fault of the production rather than the transfer. The Blu-ray boasts of an uncompressed PCM audio track that doesn't wow in anyway, but certainly represents the film with sonic authenticity. Gorgeous new artwork by Ian MacEwan graces the cover and inner booklet, while original promo artwork remains a reversible alternative for the sleeve.
Interview with Tony Rayns
Within, the longtime contributor to Sight & Sound speaks at length on the historical context of the Nikkatsu yakuza films and the involvement of director Yasuharu Hasebe, as well as actors Akira Kobayashi and Jô Shishido. 31 min
Interview with Jô Shishido
The actor talks about his experiences growing up and a fledgling performer at Nikkatsu, working with Hasebe and Seijun Suzuki, whom he worked with on Branded To Kill, and also briefly speaks about having his famed cheek implants surgically removed. 13 min
Theatrical Trailer
A bit dry for a Nikkatsu yakuza film, this trailer does its best to explain the plot while spilling as much blood as possible. 3 min
Gallery
A slideshow of 17 black and white promotional stills for the film.
Booklet
This glossy pamphlet feature a new essay by Jasper Sharp that details the troubled history of the Nikkatsu studios and the film itself, along with promotional stills, film credits and info about the transfer.
Final Thoughts:
Who doesn't love Nikkatsu's trashy transition period between their golden age of noir through the heyday of the pink film in which the riotous yakuza exploitation picture thrived? We should be grateful to Arrow Video for taking pains to present and preserve these fun low-budget works which could have easily been forgotten about. With so many blood soaked blades abound, one might be reminded of Tarantino's Kill Bill, but no-less-reserved, Retaliation strikes its own vengeful mark, scrappy as it is.
Film:    ★★½/☆☆☆☆☆
Disc: ★★★½/☆☆☆☆☆