2023 Cannes: Palme Winner Julia Ducournau, Paul Dano & Rungano Nyoni Among Jury!
Ruben Östlund has a bunch of cinephile buddies to help him hand out the big daddy of all film prizes this May with the festival unveiling who his fellow jurors are and at the top of the list of eight, we find a recent Palme d'Or winner Julia Ducournau. A youthful bunch with not many whites hairs, we also find British-Zambian filmmaker Rungano Nyoni (I Am Not a Witch), actor-director Paul Dano (he had a fine moment presenting Wildlife in the Critic's Week), actor-short-film-filmmaker Brie Larson, Denis Ménochet who had a great Cannes Premiere showing last year with The Beasts (As bestas), The Blue Caftan filmmaker Maryam Touzani, Our Lady of the Nile filmmaker Atiq Rahimi and Damián Szifrón who delivered quite the comedy in Cannes with Wild Tales and now has To Catch a Killer (also known as Misanthrope in some territories) currently in its theatrical release. This jury will have twenty-one titles in their experience. Here are the bios: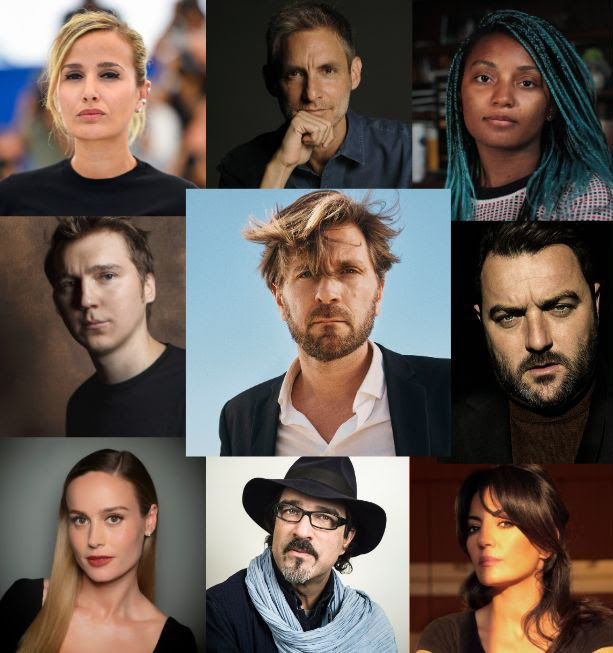 MARYAM TOUZANI
Having begun her career as a film critic, Maryam Touzani soon desired to express her vision in a different way and stepped behind the camera to direct two noteworthy short films, Quand ils dorment and Aya va à la plage. She then collaborated on Nabil Ayouch's Much Loved. In 2019, she directed her first feature film, Adam, selected for the Un Certain Regard at the Festival de Cannes and shortlisted for the Oscars. She then collaborated once again with Nabil Ayouch, with whom she co-wrote Razzia, a film in which she also starred, and Casablanca Beats, selected in Competition for the Festival de Cannes in 2021. She returned to the Festival as a director with the highly acclaimed The Blue Caftan (2022), selected for Un Certain Regard and shortlisted for the Oscars. She is currently working on her first novel and her next feature film.
DENIS MÉNOCHET
Denis Ménochet became known to the general public in the opening scene of Quentin Tarantino's Inglourious Basterds, in Competition at the Festival de Cannes in 2009. He continued his career with French and international directors including Ridley Scott (Robin Hood, 2010), Julie Delpy (Skylab, 2011), Rebecca Zlotowski (Grand Central, selected for Un Certain Regard 2013), Stephen Frears (The Program, 2015), Wes Anderson (The French Dispatch, in Competition at the Festival de Cannes 2021) and François Ozon, with whom he has collaborated three times (In the House in 2012, By the Grace of God in 2018, Peter Von Kant in 2022). Hailed by critics in Xavier Legrand's Custody (2016), he recently won the Goya Award for Best Actor for Rodrigo Sorogoyen's The Beasts, presented in Cannes last year. He is starring in the upcoming Beau Is Afraid, by the American director Ari Aster.
RUNGANO NYONI
Born in Zambia, Rungano Nyoni grew up in Wales, studied at the University of the Arts of London and now lives in Lisbon. Acclaimed since her debut in 2009 with 20 Questions and The List, winner of a BAFTA Cymru Award, she carried on with Mwansa the Great (2011), nominated at the BAFTA. Then, she co-wrote the short film The Mass of Men, Golden Leopard at Locarno in 2012. Her film Listen (2014) received the Best Narrative Short Award at the Tribeca Festival. Her first feature I'm Not a Witch caused a sensation, questioning the difficulty of individuals to free themselves from rules and norms, however absurd they may be. The film, written at La Résidence du Festival de Cannes, was premiered in Cannes and won Nyoni the BAFTA for Outstanding Debut in 2018. She is currently editing her upcoming feature On Becoming a Guinea Fowl.
BRIE LARSON
Academy Award-winning actress for her role in Room, Brie Larson is known for making cinematic history as the star of Marvel's first female-led superhero film, Captain Marvel, directed by Anna Boden and Ryan Fleck in 2019. In 2013, Brie Larson starred in Short Term 12, her first collaboration with D. Daniel Cretton. Her dramatic role as Grace earned her the Best Actress award at the Locarno Film Festival. In 2016, she did not only win the Oscar for her breakthrough performance in L. Abrahamson's Room, but also the Golden Globe and the BAFTA . Larson has worked with top directors on esteemed films including J. Apatow's Trainwreck, J. Ponsoldt's The Spectacular Now, J. Gordon-Levitt's directorial debut Don Jon, P. Lord & C. Miller's 21 Jump Street, and E. Wright's Scott Pilgrim vs. the World. She appeared on stage at the prestigious Williamstown Theater Festival. Larson will be next seen starring in this year's Fast X, The Marvels and Lessons in Chemistry.
PAUL DANO
Internationally celebrated for portraying characters with complex motives and morals, Paul Dano has starred in many acclaimed films, since his debut at the age of 17 including Little Miss Sunshine by Johnathan Dayton & Valerie Faris (2006), There Will Be Blood by Paul Thomas Anderson (2007), Prisoners by Denis Villeneuve (2013), Twelve Years a Slave by Steve McQueen (2013), Oscar winner for Best Picture in 2014 and Love & Mercy by Bill Pohlad. In 2015, he was cast in Paolo Sorrentino's Youth, in Festival de Cannes' Competition, where he came back in 2017 with Okja by Bong Joon-ho. In 2018, Dano's directorial debut Wildlife, has met with critical acclaim debuting at Sundance. Last year, Dano starred in the Spielberg's Oscar nominated drama, The Fabelmans, and The Batman by Matt Reeves. Dano's upcoming films include Craig Gillespie's Dumb Money and Johan Renck's Spaceman.
ATIQ RAHIMI
Born in Kabul, Atiq Rahimi took refuge in France after the invasion of Afghanistan. He is an esteemed writer whose work is precious and important. Published in 2000, his first book, Earth and Ashes is adapted by himself for the screen in 2004 and selected to the Festival de Cannes' Un Certain Regard the same year. Prix Goncourt in 2008 for his book Syngué Sabour, Pierre de patience, he's serving up another book-to-screen adaptation in 2012, universally acclaimed by critics and audience. Atiq Rahimi's books have been translated into more than 20 languages, they are published in France at P.O.L editions. In 2011, it's A Curse on Dostoevsky and in 2015, La Ballade du Calame. His most recent novel is Les Porteurs d'Eau. In 2019, he finished shooting his third fiction film in Rwanda, based on Scholastique Mukasonga's novel Our Lady of the Nile. In 2022, he wrote the libretto Shirine for the Lyon Opera house. Blessed with a visual eye, he also invented and exhibits his callimorphie, art made of drawings and Persian & Japanese calligraphy.
DAMIÁN SZIFRÓN
In 2014, his film Wild Tales, which he wrote and directed, made the Competition of the Official Selection bend with laughter before doing the same around the world, up to the Oscars. Damián Szifron is an Argentinian director and screenwriter. The film, produced by Pedro Almodóvar, won the BAFTA, the Goya, and more than 40 international prizes while becoming the most successful Argentinian film of all time. Among his previous works are his debut film The Bottom of the Sea (2003), On Probation (2005) and the multi-award winning TV series The Pretenders (2002) which was remade in many countries around the world and remains the most successful original TV series ever in Argentina. His new film, To Catch a Killer, an original thriller where he partnered with Shailene Woodley who plays the lead role, has just been successfully released worldwide in this spring of 2023.
JULIA DUCOURNAU
Palme d'or awarded for Titane in 2021, Julia Ducournau has established herself on the front scene of cinema thanks to her powerful and somewhat disturbing works. Her unique approach of genre cinema enables her to transcend taboos. After graduating from La Fémis, where she studied screenwriting she presented in Cannes in 2011 her short film Junior, which won awards in many Festivals. Her first feature film, Raw, allowed her to gain international recognition: it was awarded the FIPRESCI prize in 2016 and was presented at La Semaine de la Critique, Toronto and Sundance Festivals. In 2020, she directed two episodes of the American series Servant, created by M. Night Shyalaman. In 2022 she directed two episodes of the Apple series The New Look featuring Juliette Binoche and Ben Mendelsohn, which is soon to be released. She is currently working on her own series in the US with A24 TV and her next feature film.