Film Festivals
Lido at Your Door: Venice Film Festival's Sala Web Offers 11 Title Slate
While a Venetian touch (gondolas, art, architecture, margherita pizzas) certainly adds to the charm of the Venice Film Festival experience, for a third year straight, cinephiles can skip the packing their suitcases portion of a trip and bring the Lido into their own screening rooms. Venice Biennale's Sala Web has reteamed with Festival Scope folks to offer an appetite whetting total of eleven features (8 Orizzonti section & 3 Biennale College – Cinema). Announced yesterday, digital tickets for the Sala Web screenings (4€ each) can be grabbed at www.boxoffice.festivalscope.com — but don't throw your popcorn into the microwave just yet. The 2014 sampling of world cinema/72nd Venice Film Fest is only available during a period of 5 days beginning at 9 pm (Italian time) on the day of each film's official presentation.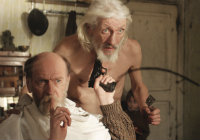 Among the headliner items we find Kandahar helmer Mohsen Makhmalbaf's The President tells a story set in a fictional Caucasus country and is about a dictator whose regime is brought down by a coup d'etat. He and his young grandson have to travel across the country disguised as street musicians, and he gets to know the ordinary people he ruled in a new light.
Chaitanya Tamhane's feautre debut (Court) begins with the discovery of a sewerage worker's body inside a manhole in Mumbai. An ageing folk singer is tried in court on charges of abatement of suicide. He is accused of performing an inflammatory song which might have incited the worker to commit the act.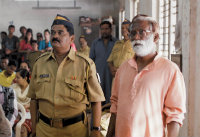 As the trial unfolds, the personal lives of the lawyers and the judge involved in the case are observed outside the court.
And another title worth mentioning is one item has been on our most anticipated list at the beginning of the year in Duane Hopkins' Bypass. This shows in graphic detail the life of Tim (MacKay). His habits, his hustle, his family, his responsibilities, his conflicts, his hopes, his fears, his character, his existence. Through this we understand his present, and his past—and we consider his future. Here are the 11 selected films.
ORIZZONTI
THE PRESIDENT by Mohsen Makhmalbaf (Opening Film)
Georgia, France, Great Britain, Germany – 105'
Cast: Misha Gomiashvili, Dachi Orvelashvili
BYPASS by Duane Hopkins
UK – 103'
Cast: George Mackay, Benjamin Dilloway, Charlotte Spencer
COURT by Chaitanya Tamhane
India – 116'
Cast: Vira Sathidar, Vivek Gomber, Geetanjali Kulkarni
IO STO CON LA SPOSA by Antonio Augugliaro, Gabriele Del Grande, Khaled Soliman Al Nassiry (Documentary)
Italy, Palestine – 89'
LINE OF CREDIT (Kreditis Limiti) by Salomé Alexi
Georgia, Germany, France – 85'
Cast: Nino Kasradze
NABAT by Elchin Musaoglu
Azerbaijan – 105'
Cast: Fatemeh Motamed Arya, Vidadi Aliyev, Sabir Mamadov, Farhad Israfilov
THESE ARE THE RULES (Takva Su Pravila) by Ognjen Svilicic
Croatia, France, Serbia, Macedonia – 77'
Cast: Emir Hadzihafizbegovic, Jasna Zalica, Hrvoje Vladisavljevic
LA VITA OSCENA by Renato De Maria
Italy – 85'
Cast: Isabella Ferrari, Clément Métayer, Roberto De Francesco
BIENNALE COLLEGE
BLOOD CELLS by Joseph Bull, Luke Seomore
UK –
Cast: Barry Ward, Hayley Squires, Francis Magee, Jimmy Akingbola, Keith Mcerlean, Chloe Pirrie, Silas Carson, Hannah Hornsby, Lauren Goodwin
H. by Rania Attieh, Daniel Garcia
USA, Argentina –
Cast: Robin Bartlett, Rebecca Dayan, Will Janowitz, Julian Gamble
SHORT SKIN by Duccio Chiarini
Italy, Iran, Uk –
Cast: Matteo Creatini, Francesca Agostini, Nicola Nocchi, Miriana Raschillà, Bianca Ceravolo, Michele Crestacci, Bianca Nappi, Crisula Stafida, Francesco Acquaroli, Lisa Granuzza Di Vita