Disc Reviews
Criterion Collection: Y Tu Mamá También | Blu-ray Review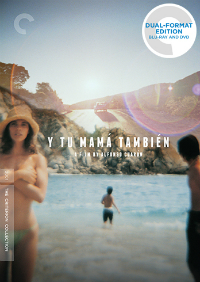 After a decade floating around the Hollywood back lots trading dignity for cash and technical experience on A Little Princess and Great Expectations, Alfonso Cuarón realized he needed to emotionally involve himself in his source material, letting his personal life, his upbringing and his cultural experience bleed into the next project he chose to pursue. Part of the Nuevo Cine Mexicano auteurs who enjoyed considerable international success (Iñárritu's Amores perros were interchangeably part of the same discourse), the resulting cinematic masterpiece Y tu mamá también was simultaneously a visually stunning portrait of Mexico (the film was shot by master cinematographer Emmanuel Lubezki) and the fragility of friendship, and a heartbreaking meditation on the transient nature of youth teeming with life and love and the tragic beauty of naiveté. Unsurprisingly, this Venice Film Festival winning film would become Mexico's top grossing film of all time in its first weekend.
Julio, Tenoch and Luisa's unforgettable road trip across the gorgeously textured Mexican landscape to the fictitious shores of Boca del Cielo took place more than a decade on now. Portraying alternate versions of their vivaciously youthful selves, Gael García Bernal and Diego Luna were propelled to international stardom, raucously coalescing on screen with Maribel Verdú's sensually raw depiction of a woman whose veiled terminal illness propels her to embrace life with a profound fearlessness. Just look at them now…
Co-written with brother Carlos Cuarón (a decade earlier they teamed on the Ariel (Mexican Oscar) award winning Sólo con tu pareja), the Oscar nominated Best Original screenplay sets a pair of horny best friends, Julio and Tenoch, on a quest of sexual conquest in the absence of their own significant others who themselves are on a European holiday. Luisa is first introduced as the Spanish wife of Tenoch's novelist cousin at a wedding for a rich relative, her interest in road tripping half jokingly broached, but after her husband comes clean about sleeping with another woman, she decides a road trip with a pair of horny teen boys might be just what she needs to purge her heart, head and repressed sexual urges. So, off they go, piled into a beater on its last legs, headed toward the sea with no real understanding of how to get there. The journey itself a seemingly final act of adolescent freedom before responsibility and the repercussions of adulthood finally trump their boyish looks and naive confidence.
There is an unspoken competition at play within Julio and Tenoch, racing beneath the surface of a pool, comparing exaggerated sexual experiences, and finally admitting transgressions with one another's girlfriends. Compounding their dispute, Luisa, in her emotionally fragile yet sexually experienced state, decides to individually test the boys' nerve, allowing them a few seconds of awkward sexual euphoria before a 10 count could conclude.
Performed with fearless verve by the outstanding trio of leads, these explicit encounters are simultaneously funny in their artless attempts at pleasure, agonizing in their depiction of foolhardy selfishness, and heartwarming in its conveyance of true affection and admiration for one another. With hearts still whole, unscathed by the tragedies of botched romances, the boys are just beginning to feel the fragility of their emotional beings being tested, but Luisa, on the opposite end of the spectrum, is trying desperately to pick up the few pieces she's got left, enjoying life in every aspect while she's still able to do so.
Though focusing on these three free spirits on a land locked adventure, Cuarón sprinkles in the omniscient commentary of Daniel Giménez Cacho (from Sólo con tu pareja fame) , whose voiceovers cut in and out, relaying somber or even tragic information about the people or places on screen. While the vibrant bodies on screen live in the moment, narration continuously reminds us that everything – including us – has a past and a future, and much of it is very unpleasant. Though Y tu mamá también is very much about the fine line between adolescence and maturity, it's powerhouse emotional core rests in the notion that living in the moment – in the sun, on the road, amongst friends, lovers and laughter – is what life is truly about.
The greatest films seem most often to exude a sense of truth about humanity. Cuarón's coming of age road trip projects a sense of authentic excitement about life, friendship and the loss of innocence that comes with adulthood like no other film in existence. ¡Viva los Charolastras!
Disc Review:
It's hard to imagine this film looking or sounding any better. Criterion have really done an outstanding job, presenting Lubezki's outstanding cinematography with a crisp yet sweltering naturalism throughout. Well rounded, intimate and still occasionally bold, the DTS-HD master track is of comparable high quality. Being a dual format release, the package comes with a pair of DVDs alongside the Blu-ray disc within the exquisitely designed digipack.
On Y Tu Mamá También: Then
Produced at the time of the film's original release, this making of short doc has interviews with the cast and crew – Cuarón, Lubezki, Bernal, Luna and Verdú – about how the project came together, the themes involved with the story's development, how Godard inspired them during the writing process and a laundry list of other valuable information. 11 min 
On Y Tu Mamá También: Now
More than a decade on, the same people who sat for Then return to reflect back on their experiences in this much more in-depth featurette. Moving from scene to scene, each of them impart just how this film affected them and where the emotions and politics of the film come from and the technical aspects developed. 41 min
The Making of the Film
Shot during the 2001 production and narrated by Daniel Giménez Cacho, the star of Cuarón's first feature, Sólo con tu pareja and the omniscient narrator of Y Tu Mamá También, this featurette mixes traditional making of footage with the rye omniscient commentary of the feature – not to mention the many pranks involved with the shoot. 22 min
Interview with Philosopher Slavoj Žižek
With his signature excitable rantiness, Žižek deconstructs the sly political underbelly of the film, hiding in plain sight as the sun-kissed background, sneaking in the beauties of cultural texture, historical context and underlying fears of political unrest. 9 min
Deleted scenes
A trio of chatty cut scenes include Julio's sexy ride to the airport to drop off his girlfriend, an in car improvised song between Julio, Luisa and Tenoch, and a whistled tune by a random local. 4 min
'You Owe Me One' (2002) – a short film by Carlos Cuarón
Carlos co-wrote Y Tu Mamá También with his brother Alfonso. Written and directed by him, this piece serves as a thematic counterpart to the feature, taking a brief look at permiscuity within the walls of a single family. 12 min
TV Spot
Featuring that classic 'in a world' voiceover of the late 90s and early 2000s, this is a brief, humorous pitch at an American audience. 30 sec
Theatrical Trailer
A Mexican hip hop track lines this dialogue free trailer, which is odd, considering the motor mouths that run wall to wall throughout the film. 2 min
Booklet
Packed with film stills, this thick little booklet features a reflective essay by film critic Charles Taylor, a series of character biographies written by Alfonso and Carlos during development that was originally published in the book Las biografías, and loving written tribute to Betsabé, the beat up LeBaron that transports them throughout the film.
Final Thoughts:
It's bizarre to think that before and after this film, Cuarón worked within the Hollywood system on polished literary adaptations, as, though perfect as it is in its own right, Y tu mamá también is something of a different creative beast entirely. Funny, heartbreaking, sultry and just alive through and through, Cuarón's film is a work of fluid collaboration surfed upon with pure perfection from all parties involved. This is a must see picture and a must own package.
Film: ★★★★★/☆☆☆☆☆
Disc: ★★★★★/☆☆☆☆☆