Cover Up Love's Alibi: Bayona Delivers Sensitively Portrait of Childhood Grief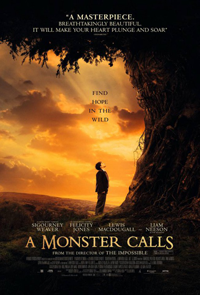 Rounding out a loosely themed trilogy on traumatic motherhood, director J.A. Bayona, once protégé to Guillermo Del Toro, unleashes his most extravagant film yet with A Monster Calls, an adaptation of the children's novel by Patrick Ness, who refashions his own text for the screen. The special effects fantasy drama is a simple story, utilizing metaphors as escapism. In order to confront his uncontrollable grief, a young boy summons a tree monster in his imagination to help deal with his ailing mother who is dying from cancer. After bearing witness to three stories from the omnipotent Ent(ity), the young boy is forced to tell his own story, utilizing lessons he's learned to grapple with reality. Those easily prone to tears will most likely be unable to contain their emotions in this methodical drama which could best be described as a family friendly tearjerker. The potential is there for Bayona to have brought this UK set narrative to much darker, more profound depths, but at best, this is a visually astounding yet superficially conceived approximation of one child's significant loss.
Young Conor O'Malley (Lewis MacDougall) has been suffering some severe nightmares involving the earth opening up at his feet and swallowing his mother (Felicity Jones) before he can save her. It turns out mom's health is swiftly declining due to cancer, and Conor's formidable and cold grandmother (Sigourney Weaver) has suddenly arrived at the same time he receives a visitation from a gigantic, gnarly tree monster (voiced by Liam Neeson), who informs the young lad he will tell him three stories on three different nights. After the telling of the tales, Conor will be forced to convey to the powerful yew tree his own story. Whisked away to live with his grandmother as his mom's health requires hospitalization, Conor is also aggravated by some bullies at school, as well as the fact his father (Toby Kebbell) has arrived to visit but declines to bring his son back to California, where he lives with his new family. As the monster spins his stories, Conor must learn to say goodbye.
Despite only skirting grief's surface, A Monster Calls does feature a highly nuanced performance from newcomer Lewis MacDougall. Even in moments which feel incredibly rote (nearly every moment taking place at school amongst his bullying peers feels at best cliché and at worst, too obviously spelled out in pat dialogue exchanges, especially the sequence where Conor aggressively attacks his instigator) MacDougall's emotional register never rings false (although it does allow for Bayona to inject his muse Geraldine Chaplin, who has appeared in all his features to date, in a nice accent as an understanding principal).
Likewise, despite the familiar timber of Liam Neeson's commanding vocalizations, conversations with the tree monster don't quite ring as powerfully as we would hope, sometimes depending on a belabored comical tone which doesn't convey the necessity of Conor's crutch. As the dying mother, Felicity Jones gives an eloquent performance, particularly in a meaningful and simple deathbed speech with ties together the film's saving graces quiet majestically. As a no-nonsense grandmother, Sigourney Weaver plays British for the first time since 1983's The Year of Living Dangerously (going for a posh, upper crust accent), and adds a bit of omnipotence as a tough but ultimately thoughtful and forgiving figure.
Stealing the thunder from even Neeson's booming, glowering monster, however, are some heavily stylized animated sequences which provide the right degree of metaphor and morbidity the rest of the film skitters around nervously. Visually, A Monster Calls is Bayona's most polished film to date, but compared to the more effective tones of The Orphanage (2007) and even the mainstream acclimated The Impossible (2012), it simplifies the very complexities necessitating its existence.
★★★/☆☆☆☆☆