First Do No Harm: Plum for Plummer in Oddly Engaging Fairy Tale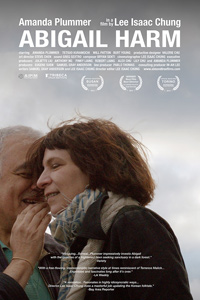 For his third feature film, Lee Isaac Chung adapts a Korean folk tale, "The Woodcutter and the Nymph," into a modern day fable about companionship and loneliness with Abigail Harm. Showcasing an exemplary lead performance from the consistently underrated Amanda Plummer, there's an intriguing offbeat rhythm to Chung's film, which doesn't always work in the film's favor. Filled with quiet moments of considerable impact, stilted, hallucinatory pacing sometimes distracts from the emotional potential, never gravitating far enough away from the feeling of fable.
Abigail Harm (Amanda Plummer), an introverted and isolated woman in New York City, reads literature aloud to blind folks, which seems to be the only form of social interaction in which she partakes. We first meet her imbuing the prose of Lewis Carroll with surprising emotion. Next, she's pinch hitting for another reader for the persnickety Mr. Warren (Burt Young), who doesn't like her voice but asks her to describe how some women look in erotic photographs in one of his girlie mags. An omniscient narrator (Will Patton) tells us that Abigail's father is slowly dying, and she has not been able to bring herself to see him in his current condition.
One day, whilst lost in a fable about a woodcutter who rescues a deer and receives a wish in return, a mysterious, wounded man (Will Patton) shows up bleeding in her home. He begs her for help by not turning him over to his pursuers, suddenly knocking at her door. As his belly wound heals before her very eyes, Abigail resists his attempt to pay her in cash. Instead, they talk, and the stranger asks if she's ever been in love, to which Abigail admits she has not. He tells her a fable, and says he can "arrange" for her to fall in love and thus instructs her to go into an abandoned building where she will find a naked man (Tetsuo Kuramochi) taking a bath. If she takes his bathrobe, this will prevent him from returning to the world he's from. Abigail does as she's told and soon finds herself surprised and consumed by these alien feelings she's experiencing.
Anyone familiar with Amanda Plummer knows she's astute at embodying misunderstood outcasts, thus generally relegated to the supporting arena. Here, she's center stage and in nearly every frame, and it's a memorable performance that manages to override the film's distancing effect as a modern day fable. She's a melancholy creature in an isolated existence, escaping into the fumes of the literature she reads to blind people, and it seems we're supposed to draw similarities to her own lack of sight in the realm of love. Strange details about her relationship with her father add a further sense of mystery, but the introduction of Kuramochi as the near mute companion doesn't quite hold the same interest as Plummer does on her own.
As they consummate their burgeoning emotions, Plummer's Abigail begins to have doubts about how and why her companion is kept in a cold, hard world that he doesn't seem equipped for, and her final moments of the film, arms outstretched and eyes closed as she navigates a space she no longer wishes to see alone, is quietly devastating.