An Education: Brewster and Stephenson's 12 Year Docu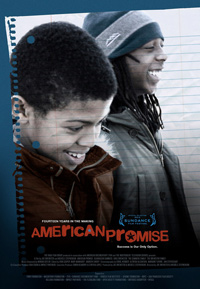 Documentarians Joe Brewster and Michèle Stephenson have been investigating the multicultural divide that pervades American culture for years, but when they decided to take a step back from filmmaking to start a family, they couldn't help but turn the cameras on themselves and their beloved new son, Idris. When he turned five, his parents began to actively document him and his best friend, Seun, as they mounted the threshold of the convoluted landscape that is the American education system. Twelve years later, the cameras were still rolling, but lives took veering paths, expectations were drastically altered, and proof of the remaining cultural gap seemed to be in the scholastic pudding. Their second docu feature together, American Promise is a grandiose illustration of the immense hope and crushing disappointment inherent in the American dream that promises with a good education, anything is possible. For even in the hands of those with both abundant intelligence and moderate principal, it seems as though a child's future can not merely be nurtured to perfection or bought at top dollar, especially if born a minority.
Idris' highly educated parents (Brewster attended Harvard and Stephenson graduated from Columbia Law) had extremely high hopes for their son's future. With the best intentions, they enrolled him in the prestigious Dalton School in upper east Manhattan, a private institution with a pedigree of ivy league college placement and long running national recognition as one of the top prep schools in the US. Though Dalton had recently moved forward with a projection to further the racial diversity of their class body, it was obvious from the beginning that Idris and Seun were two of only a handful of African-American students in the entire school, making them unspoken representatives of their lineage and an awkward presence in intensely white environment. Little by little, as time went by, Idris and Seun's parents could feel the disconnect between their children and the school's general perception of them. While they were perfectly sound adolescence outside the classroom, always on top of their homework and involved with extra curricular activities with their fellow classmates, they, along with a couple other black children, were singled out as pupils in need of extra help.
The feeling was mutual among African-American parents in the school district, but as it turns out, Idris did indeed suffer from attention deficit disorder and Seun was mildly dyslexic, disallowing them to excel in a classroom setting. As it came closer to move from middle school to high school, both Idris and Seun were threated by expulsion from the school if they did not raise their grades. Unfortunately, after years of paying top dollar for a prep school education, Seun's hardworking dad and cancer fighting mom were forced to find an admissible public school replacement for her son, while Idris continued to school at Dalton. Once the two are found at different schools, the divergence in education style becomes overwhelmingly obvious. In the public school, racial diversity swings far to the other end of the scale. Expectations are lowered. And yet, as college applications are sent out and decisions have to be made, the playing fields seem to unexpectedly level out, resulting in both heartbreaking disappointment and gratifying accomplishment.
Throughout this almost 3-hour epic of a film, we get to know Idris and Seun quite thoroughly, as well as their omnipresent parents. They are both truly sweet, highly intelligent, wickedly funny, and very different kids with very different educational needs. Idris, a busy-body athlete, excels in basketball, despite being by far the smallest and youngest on the varsity squad, and yet, he is continuously put down by his father about his strength of athletic will. As in his endless studies, he can always be better. This is not to say Joe is some kind of parental tyrant, but he is often overly harsh in blatantly honest ways, and somewhat brave for putting himself on screen being such a hard-ass. Seun, on the other hand, is a laid back kid, at ease in any crowd, but frustrated with his learning disability and put off by the unrelenting pressures of his schooling. This fact, mixed with the influx in teenage anatomy, causes many kids to drift from school, as Seun eventually does.
As much as the film is about the falsehoods of educational promise, the need for psychological analysis in schools to detect learning disabilities, and the odd cultural disconnects that exist within them both, the film is also about growing up, having to handle parental expectations, and how parents try to balance idealistic aspirations with realistic goals for their kids. These children are under tremendous pressure to intellectually perform at very high levels. At one point in the film, Brewster watches Obama give his first inaugural speech along with Idris, telling him that if he continues to work hard at Dalton, he could aspire to greatness, just as the new president has. That is intense talk for a middle schooler, and just one brief example of applied pressure of many throughout the film.
With twelve years of material to work with, Brewster and Stephenson had the horror and privilege of weeding through it all to find one absolute gem after another. Each moment is a poignant bit of personality or pivotal piece of plot development. The kids grew up with the camera on them constantly, and they remain open and candid at all times, with some parts apparently filmed by other hands as not to taint confessions by the presence of parents. It's a brave and bold maneuver to place your family in the spotlight as the directors have, but it's paid off in extraordinary ways. Yielding belly laughs, big salty tears, and cultural critique in equal measure, American Promise is not only a powerful attestation of unintended racial alienation, but a sprawling testament to parental devotion and the natural will of children – an intimate American docu-epic unlike anything that's come before it.
Reviewed on January 28th at the 2012 Sundance Film Festival – US DOCUMENTARY COMPETITION Programme. 140 Min