Hello, Newman: Ariola's Meditation on Getting a Life Fails to Have One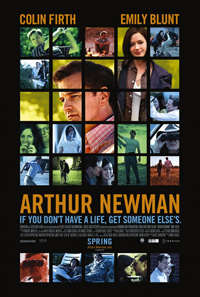 For a film whose tagline aggressively demands, "If you don't have a life, get someone else's," Dante Ariola's directorial debut, Arthur Newman, is noteworthy only because it stands as a flaccid attempt at detailing one duo's attempt at reinventing life, or something like it. A dull man decides to reinvent himself with a new identity, escaping his rather vague and contrived past, until he conveniently meets a loosely written kooky female character, and their experiences teach them about the value of embracing yourself and your responsibilities. Oddly starring two well known British actors as the woebegone American leads, it's a tedious character study that forgets about characterization.
Wallace Avery (Colin Firth) is tired of leading his humdrum life that's seemingly devoid of interest and passion. He's a divorced father, estranged from his teenage son, and he's utterly bored with his current girlfriend, Mina (Anne Heche). Dreaming of reinventing himself, he indulges in a mid-life crises fantasy by faking his death and by purchasing a new identity (from M. Emmet Walsh, in a brief appearance) he becomes Arthur Newman (yes, literally, a New Man). With golf as his only passion, he sets off for Terra Haute, Indiana to reinvent himself as a golf instructor at a country club. But almost immediately, Arthur stumbles into the disheveled mess of Michaela "Mike" Fitzgerald. A young woman obviously in need of some help, Arthur is allured by her, but it's not long before she discovers what Arthur is really up to, and she is in a similar adventure of her own. Joining him on the road to Indiana, they develop feelings for each other and discover a predilection for breaking into other people's homes and pretending to be them. But they learn that starting from scratch isn't as easy as you'd think.
With a bevy of nonchalant antics, all poised seemingly around the notion of identity, the lazily spackled house raid role playing exercises of Mike and Arthur feel very similar to other recent sources (namely Kim Ki-duk's 2004 film 3 Iron). Throw in a little bit of mystical golf skills as a metaphor for emotional ennui and you get some The Legend of Baggar Vance (2000) as well. While we're only treated to a smattering of visually related details as to the miserable vacuity of Firth's existence (an employee at FedEx, boring girlfriend, estranged relationship with son) he mostly depends on showcasing the bitter follies of a wasted life by way of large rimmed glasses, frumpy dumpy wardrobe, and a pinched mouth making him look like the beleaguered older brother of Rainn Wilson. Blunt has the misfortune of playing the transparently assembled companion to Firth's fuddy duddy, a broken cipher of ideas forced to adhere to the impossible feat of presenting herself as equal measures charming and crazy. A handful of unnecessary breakdowns concerning her schizophrenic mother and twin sister have the actress expounding, "I'm a genetic time bomb!"
A more interesting feature seems to be tucked away in the anemic subplot, which shows a strange bond developing between Arthur's abandoned girlfriend and an adolescent son he never bothered to get to know. Unfortunately, as presented here, their fleeting moments together (though a welcome distraction) could have been neatly excised altogether. The script, from Becky Johnston, is apparently over twenty years old, and obviously some changes were made to modernize it, but Arthur Newman somehow lost any semblance of vintage magic in its translation to the screen. We've seen these themes, these similar people and their similar problems before, and while a slow burn narrative often leads to surprising results in tone and/or character revelations, there is a consistent flatness to Mike and Arthur. Even as Terra Haute (which translates as High Land) fails the two broken souled individuals as a proverbial Mecca and reveals itself as just another fantastical façade in life's great journey, Ariola's blandly titled drama also never reaches a higher ground. His film is titled after a fictional character we walk into the theater knowing nothing about. We leave the theater feeling the same way.