Asscapade: Vaughan's Body Horror Comedy Ripe for Cult Status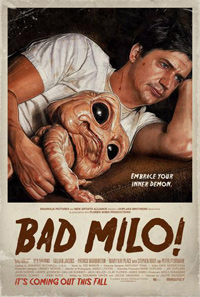 Destined for cult comedy status is Jacob Vaughan's Bad Milo!, a ribald idea that threatens to offend the good tastes of polite society, but isn't quite as shockingly daring as a written synopsis would seem to indicate. In essence, a film about an ass monster demon (yes, an ass monster demon) that is a literal metaphor of personified, repressed rage emanating from its host, Vaughan has made one of those movies designed to be an excellent ice-breaker in a crowd, not unlike Tom Six's Human Centipede schlockers. But the point here is never quite fully formed and one gets the sense that the film doesn't quite live up to its daring potential. Nevertheless, a handful of oddly bizarre moments coalesce to shape the semblance of working narrative, and though it perhaps takes itself too seriously, it at least manages to tap into an offbeat humor.
Duncan (Ken Marino) is a stressed out accountant who has been having considerable stomach pains. Visiting the doctor with his wife Sarah (Gillian Jacobs), an ultra sound reveals what looks to be a giant polyp on Duncan's colon. Advised that stress has most likely caused his condition, Duncan is referred to see a therapist (Peter Stormare). Scheduling a procedure, Duncan returns to work to find that his boss (Patrick Warburton) has had to downsize considerably, moving Duncan into Human Resources and forcing him into a shared cubicle that used to be the men's restroom. A stressful dinner at his mother's (Mary Kay Place), paired with his new cube-mate deleting an important file on his computer, Duncan loses his temper and out pops a rather substantially sized creature, which has apparently been residing in his stomach, appearing, it seems, to wreak havoc on those that have emotionally wronged his host. Duncan's New Agey therapist is convinced that Milo represents his anger and fear and he cannot kill it because it as a part of him. Instead, he must learn to master the monster, coined Milo, first by conquering abandonment issues he has developed from his relationship with his estranged father (Stephen Root). But the slippery Milo isn't as easily controlled as all that.
Bad Milo! plays like the bastard progeny of cult genre classics Basket Case (1982) and The Brood (1979). While Henenlotter's title belongs to the so-bad-it's-good camp, Cronenberg's film seems to be a notable influence to the material here, where a kooky Samantha Eggar's negative energy causes her to sprout unsightly pods out of which are born beaked beings (resembling Scandinavian children) geared to do her subconscious commands.
Uncomfortable moments abound in Vaughan's film and there definitely seems to be a sense of Cronenbergian body horror at play, generally revolving around fecal matter. And as a puppet, the toothy Milo is certainly a creepy sight to behold, who is reminiscent of a giant Ghoulie that makes cutesy gurgling sounds even as blood sprays the walls. And while Vaughan and screenwriter Benjamin Hayes thankfully avoid resorting to homophobically oriented jokes in relation to the material, one wishes they had gone balls-to-the-wall batshit crazy with this potentially dark tale, which instead turns a saccharine cheek in its finale, revealing Milo to be a hereditary issue.
Marino is more than game here, but his presence paired with several other cast members, namely an underutilized Gillian Jacobs and the entertaining Stephen Root, associates the film even more firmly with the camp/trap of sketch comedy. Other cast mates are hit or miss. Peter Stormare is an oddly appealing element as a holistic therapist, while Patrick Warburton's embezzling businessman is about as lazily written as the Tom Arnold cameo in Tyler Perry's Medea's Witness Protection. While Milo is delightfully unpleasant and you may find his burgeoning relationship with his host dad oddly touching, Vaughan's film never gets elevated beyond merely being a movie about a man with an ass demon. And hey, maybe that's really all it needs to be.