An East Texas Love Story: Linklater's Affectionate Tale of Murder in the First Degree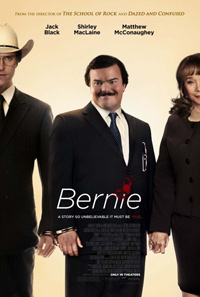 Richard Linklater returns to fiction based on real life with his latest, Bernie, a true crime tale plucked from the director's native East Texas. Dressed as a black comedy, Linklater gives us a hybrid mockumentary dramatization that wraps us all up with gap toothed affection for one of the sweetest murderers ever to hail from the Bible Belt. While it manages to avoid pushing the bad taste envelope, the film's gleeful tone reveals itself to be the only bit of shiny, transparent veneer that slides us into the predictable and predetermined finale.
Set in 1990's Carthage Texas, a rural hamlet ruled by Christian mores and southern hospitality, we meet Bernie Tiede (Jack Black), an overweight, effeminate assistant funeral director who happens to be one of the town's most beloved residents. He teaches Sunday school, leads the church choir, directs plays at the local theater, and famously "cosmetises" the deceased. While it seems that Bernie Tiede is one of those people that only likes to give, he also has a tendency to spend all his free time with DLOLs (Dear Little Old Ladies), especially after their spouses pass. One of the town's richest residents also happens to be the most feared, and hated, the recently widowed Marjorie Nugent (Shirley MacLaine). With his usual panache, Bernie wheedles his way into Marjorie's company, much to everyone's surprise. As the two become inextricably closer, Bernie becomes Marjorie's frequent travel companion and then finally, her only indentured servant. Jealous of Bernie's other friends and interests, Marjorie's bitchy nitpicking finally causes Bernie's friendly demeanor to disappear one day when he shoots Marjorie in the back four times. Hiding her body in her garage freezer, Bernie carries on the illusion that Marjorie is alive and unwell for the next nine months or so. And everyone, with the exception of Marjorie's stockbroker, is just fine with that. And when headline hunting DA Danny Buck (Matthew McConaughey) gets wind of suspicious activities, Bernie's fragile existence quickly unravels.
Bernie is a highly entertaining little romp, if mostly due to an exceptional performance from Jack Black. Linklater intersperses the proceedings with talking head interviews of Carthage townsfolk, some of whom are actual residents that loved and cared for Bernie Tiede. Commendably, Linklater doesn't shy away from Bernie's obvious homosexuality, though for our sweet affection for Bernie to grow, there is a shying away from saying out loud that Bernie Tiede was a small time con artist that may have had a tendency to give, but nevertheless had an obvious penchant for fleecing old ladies.
Shirley MacLaine is about as you'd expect, a wonderfully entertaining bitch. Just as no one in Carthage seemed to care for her, we're also lead to feel nothing for such a foul, angry and bitter miser. McConaughey's really not given much to do, but as a Linklater favorite, he fills out his spaces just fine. In the grand scheme of things, it's unfortunately not daring or zealous enough to register beyond becoming a modest curiosity piece. If anything, it plays similarly to a 1993 made for television film starring Holly Hunter, The Positively True Adventures of the Alleged Texas Cheerleader-Murdering Mom (notice how Texas seems to be a great place for funny murders), which was directed by a Michael Ritchie, whose 1976 film The Bad News Bears was remade by Linklater in 2005. Watching Bernie, you'll giggle a few times and be relieved to see that Texans aren't hell-bent on executing everyone they find guilty of first degree murder.