Reviews
2013 Slamdance: Between Us | Review
Bring Me the Head of Virginia Wolff: Mirvish Scores With Acidic Marital Strifer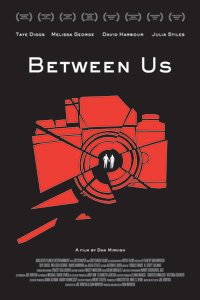 Director Dan Mirvish, co-founder of the Slamdance Film Festival (and perhaps more notoriously, co-founder of the Martin Eisendtadt hoax during the 2008 Presidential elections) has adapted Joe Hortua's Off-Broadway play Between Us for mostly positive results, featuring four biting performances from an impressively assembled ensemble. A sort of modern day Who's Afraid of Virginia Woolf? infused examination of the inherent love/hatred backgammon of two people spending their lives together, Hortua/Mirvish don't quite hit the drastic highs and lows of Albee/Nichols' boozehounds George and Martha who used liquor as truth serum, but they still manage to create a harshly observed juxtaposition of two marriages, where the best of times and worst of times, if not interchangeable, are always in flux.
Split between New York City and a vaguely defined location in the expansive Midwest, two heterosexual couples share two relationship altering nights together. Briefly opening in present day New York, an angry Grace (Julia Stiles) opens the door to unwelcome guests Joel and Sharyl (David Harbour and Melissa George) and we are instantly jettisoned to four years prior, when Grace and her husband, Carlo (Taye Diggs), traveled to visit Joel and Sharyl at their large, expensive home in the Midwest. Joel and Carlo had been best friends together in college, where they both pursued their dreams to be artists. While Carlo struggles on to accomplish his artistic goals, Joel has taken a lucrative job offer in the Midwest, forcing him to leave New York with Sharyl, where they can comfortably support their recent newborn. Grace and Carlo find their old friends seemingly on the verge of emotional collapse, the bickering of the host couple at an unchecked, fever pitch. Come to find, it is this horrible visit, which apparently ended with the two couples swearing never to see each other again, which is the rationale for Grace's reaction, four years later, when Joel and Sharyl unexpectedly visit New York. And now, it seems, the tables have turned, as Grace and Carlo struggle financially to support their own newborn. Claws are out and the dander is up as we flip flop between the past and the present, the love and the hate.
While it gets off to a rather rocky start in both scenarios (there's some awkwardly realized arguments about Joel and Sharyl over a baby toy, the 'chubby-snubby,' and then a ridiculous conflict over delivery milkshakes in the NYC segment), the strength of the performances soon gets us past some of the grating staginess. David Harbour, nominated for a 2005 Tony for his role in stage revival of Woolf seems comfortably at home, and the sultry Australian Melissa George, who has worked with notables like Soderbergh, Lynch, and Christopher Smith, graciously swings from adulterous post-partum to trophy wife ice queen quite believably. Stiles (who seems to be continuing her radical career reinvention with appearances in 2012's The Silver Linings Playbook and It's a Disaster) is no less bitchily acidic, her seething anger dominating the film's current day scenario. It's just unfortunate that minor details skirt us out of the action every now and then, like pictures of the two couples posing together, supposedly from happier times, which seem posed and unnatural.
No one really seems to come out on top as all are written to be innately selfish and/or flawed individuals. Perhaps intentionally, child-rearing, no matter what the socioeconomic status, takes on all the cheery glow of a hellish limbo with both of these couples, and as for marriage, its nothing if not a revolving door of sadomasochistic emotional tendencies. While it's not without certain flaws, Between Us is a delightfully mean spirited exercise that blurs the lines of love and hate, friends and enemies.
Reviewed on January 20 at the 2013 Slamdance Film Festival – SPECIAL SCREENING Programme.
90 Min.