Rules of the Game: Helander's Schlocky English Language Debut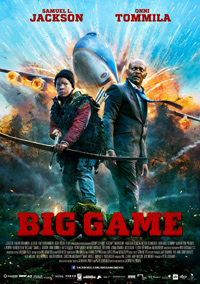 Even though the film seems perfectly well aware of its own silliness as it recapitulates formulaic American action cinema tropes of days past, Finnish director Jalmari Helander's Big Game never manages to elevate itself beyond a mere dose of basic mimicry. A follow-up to his cult audience courting debut, the strange evil Santa Claus movie Rare Exports: A Christmas Tale, it would appear the filmmaker prizes his own amusement over his audience's, at least judging from the inescapable hokiness tinging the film.
Where his first film displayed playfulness with its dark humor and memorable action sequences, he's returned with a different set of vintage inspirations. At times entertaining, especially concerning its unique blend of cultures, and with surprisingly adept special effects sequences, this is goofy fun as long as you can keep your expectations in check.
Thirteen year old Oskari (Onni Tommila) is about to set off on his destined 'walkabout' in the Finnish hinterlands, engaging in hunting tradition followed by his community where young men spend a night in the woods to return with the carcass of a glorious beast. He's got big boots to fill because his dad (Jorma Tommila) is a hunter of great renown, and it appears Oskari has something of an inept reputation. But he stumbles on President William Alan Moore (Samuel Jackson) in the woods, stuck in an escape pod ejected from Air Force One after it was shot down by a group of terrorists led by Hazar (Mehmet Kurtulus), an unpredictable individual in cahoots with someone in the leader's administration to hunt what he considers 'the ultimate big game.' Luckily for Oskari and the president, their meeting is the chance for them both to prove their questioned resourcefulness.
Of considerably better quality than Samuel Jackson's other famed aerial adventure, Snakes on a Plane (2006), the performer's usual crassness is toned down for what serves as an affable, family friendly espionage film, one considerably less violent than PG-13 American brethren.
Jackson plays President William Alan Moore as if the character were a mailman accidentally elected leader of the country, and he's not exactly out of sync with the film's tone. Of course, the pointed critique of Jackson's leader as a wishy-washy sort would suggest we're supposed to draw comparisons to how right wing jackdaws paint the current US president in the media. But if you thought the dialogues amongst the political professionals in Antoine Fuqua's Olympus Has Fallen was undiluted hokum, check out the laughable exchanges of Federal officials here, and performed by the likes of Ted Levine, Victor Garber, Jim Broadbent, and Felicity Huffman. And then as the nefarious villains, German actor Mehmet Kurtulus and character actor Ray Stevenson may as well be twirling moustaches.
But Big Game somehow manages the impossible feat of being enjoyable in its exchanges between Jackson and the likeable child actor Onni Tommila, star of Helander's first film. There's a certain cornball poignancy that sets in between their characters, and it makes up for the rest of the film's bumbling, generally skipping between Jackson, the terrorists, and the US in an endless repetitive pattern until the third act.
As with Rare Exports, the production quality, including the skills of Helander's returning DoP Mika Orasmaa (who worked on another goofy Scandi curio, Iron Sky), is impressive considering the kind of narrative pablum we're dealing with.
★★½/☆☆☆☆☆