The Beautiful and the Consigned: Allen's Latest Instance of Compromised Love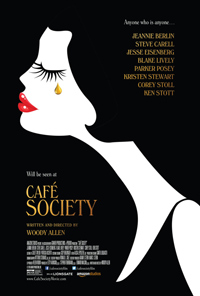 Like all of Woody Allen's features over the decades, his latest examination of humans trapped in their overly complicated courtship rituals, Café Society, will be held against the standard of the auteur's staggering filmography. Though his offerings remain prolific, they are sometimes lacking in the substance characterizing several earlier classics. This latest leans into more positive attributes, though offering little by way of innovation as it concerns two idealistic young lovers caught between dueling cultures of New York and Los Angeles in the 1930s. Nothing we haven't seen before from the famed purveyor of neurotic love, most often prizing the perspective of a nebbish, hypercivilized male engendered with less physical prowess than his more becoming love interest(s).
In 1930s New York, Bobby Dorfman (Jesse Eisenberg) tires of his bickering parents (Jeannie Berlin, Ken Stott). Fed up of working at his father's jewelry store and unsure about prospects of joining his increasingly prolific brother (Corey Stoll), a rumored gangster, he takes off for Los Angeles, where his uncle Phil (Steve Carell) is the head of a major motion picture studio. Securing a job as his uncle's errand boy, he quickly begins to have feelings for Vonnie (Kristen Stewart), a secretary whose relationship with Phil isn't exactly professional.
Allen often indulges in his passionate nostalgia for the earlier half of the twentieth century, and when his films aren't set in a specific period, his characters are often equally obsessed or even magically transported there, as evidenced by his 2011 success Midnight in Paris. Following a series of films abroad, the once strictly New York based filmmaker straddles both coasts with this latest, though he tends to play up the loathed film industry stereotypes of Hollywood in favor of the culturally comfortable climes of Manhattan. Once more employing the likeness of Jesse Eisenberg (previously of 2012's To Rome, With Love) as his stand-in, Allen effortlessly glides over the usual tics in his familiar scenario of two young lovers who decide to maintain romance with someone else, whether for personal gain, status, or comfort. But there's something irksome and highly artificial in this twirl of Allen's usual merry-go-round in comic misunderstandings, here spiked heavily with violence in the form of trigger happy Corey Stoll as Eisenberg's gangster older brother.
And though Eisenberg is a fairly affable composite for Allen's idiosyncratic flavors of alternative masculinities, it's still difficult to believe the dual romance his character carries on with either Stewart or Blake Lively. But this in part due to Allen's woefully slim and superficial treatment, the octogenarian narrating himself, a device used successfully in many of his previous features, but less so here. Instead, Café Society does a whole lot of telling and not too much showing, which particularly hobbles his bright supporting cast, including Lively (whose sympathetic longing is staged in the same register as her performance in The Age of Adaline) and a peroxide blonde Parker Posey, who has even less to do here than in her initiation to Allen last year in Irrational Man. Steve Carell manages a few dialed down moments, and Jeannie Berlin (whose mother Elaine May is no stranger to Allen) is equally a joy to behold in her few moments of screen time.
The real stars of Café Society are an impressive Kristen Stewart and some exquisite frames courtesy of Italian DP Vittorio Storaro, who gives the film a beautiful color re-creation of a famed shot from Allen's classic 1979 title,Manhattan. Stewart's Vonnie captures some of the magic of Allen's most memorable female characters, like Farrow or Keaton, almost imperceptibly in simple moments, such as when she reunites with Bobby after several years and asks where they're going next because she's not ready to go home. But their chemistry is never potent enough (despite having shared romantic moments in earlier films, like Adventureland and American Ultra) and the narrative never striking enough to make Café Society more than a passing fancy about a particularly superficial subset of the population. As another example of idealistic youths turning into the exact stereotypes they so bitterly judged, Allen refrains more than usual from the possibility of resolution, resigned to a 'love the one you're with' attitude.
Reviewed on May 11th at the 2016 Cannes Film Festival – Opening Film. 96 Mins.
★★½/☆☆☆☆☆