Sweet Emotion: Doremus Does Dystopia on Enjoyable, Recognizable Canvas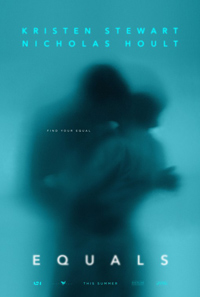 Emotions cannot be controlled, but they also cannot be allowed to control you. At least, that seems to be the basic tenet of the post-apocalyptic universe in the latest film from indie director Drake Doremus, Equals. A continuation of the director's fascination with exploring the trajectories of romantic entanglements facing impossible odds of success, it is also is his most high profile project to date. But throwing it into a wider arena of dystopic cinema, the film does bear comparable similarities to plenty of other films, including a number of recent YA forays into the realm. However, the filmmaker approaches his narrative, written by Moon (2009) scribe Nathan Parker, as an exploration of a serious, adult love story. Curiously, it lacks a certain sense of danger, foregoing genre frills and technological advances for a meditative rendering of developing intimacy.
In the era following the end of the world as we know it, humankind has genetically eradicated mankind's need to experience human emotion in order to survive. With violence and crime quelled, a new emotional disease has begun to strike down certain members of the high functioning and rigid society. Known as SOS, Switched On Syndrome is something that turns on these drone like people and makes them emotionally distraught. Silas (Nicholas Hoult), discovers he has recently become a victim of the disease, and those carrying it are able to stymy the progression by taking inhibitors—until they get to Stage 3, which sees them transported to an eerie place known as the DEN. But Silas notices a co-worker he longs for, Nia (Kristen Stewart), has been exhibiting signs of emotions, though she's been able to hide it from the powers that be. Together, the two reluctantly explore growing feelings for one another. Until a cure is found for this mysterious syndrome, one that promises to eradicate all known cases of emotion. For good.
If the pod people of The Invasion of the Body Snatchers, initially a metaphor exploring the nightmarish possibilities of Communism, were populating the Orwellian doublethink model of 1984 it might look kind of similar to Equals. Doremus and Parker aren't as interested in exploring this universe's full potential concerning the annihilation of emotion, in a world where scientists have coded our DNA with inhibitors to suppress them. Love is the drug, it seems, that ultimately overrides all, because you cannot fool Mother Nature. This hardwiring of the population similarly recalls one of Michael Winterbottom's best films, Code 46 (2003), also featuring a love-struck couple found genetically incompatible, though their feelings dictate otherwise.
Doremus and Parker populate their mostly white universe (including the majority of the cast) with sterilized behaviors not far removed from most modern day office space professionals. But with such a broad set of parameters, Equals does tend to feel a bit underwhelming once its exposition is laid bare and the narrative wheels are in motion. Nicholas Hoult and Kristen Stewart are both enjoyable as the film's handsome couple, their plight rather similar to the one outlined in Like Crazy between Anton Yelchin and Felicity Jones (had Doremus had more running time, perhaps we'd see a more emotional being usurping the attention of the male or female here). No time for sexual orientation to be broached or any other kind of differentiation, as apparently, like in nearly every dystopic situation put to film, heterosexuality is never in contention (it appears women are selected at random for conception here, so more than just emotions have been eradicated).
A strong supporting cast, including Guy Pearce (who appeared in Doremus' 2013 Breathe In), Jackie Weaver, Kate Lyn Sheil, and Bel Powley (of this year's Diary of a Teenage Girl) are all rather customary types we find in these scenarios. Doremus' returning DoP John Gulesarian creates a striking palette of white shaded omnipotence, and the production seems enhanced by the simplicity of already existing structures (not unlike the subway system used in Verhoeven's Total Recall, 1990). Surrounding foliage ultimately takes on an organically lush presence, as if the increasingly troubled humans will eventually be swallowed up.
Ultimately, Equals may not be as strong a feature as it could be, portraying the age old predicament of what happens when our base functions are repressed. But Doremus manages something a bit more intimate in this exploration of curiosity and the human compulsion for physical contact, defying genre expectations with a film often uniquely meditative.
Reviewed on September 14th at the 2015 Toronto International Film Festival – Special Presentations Program. 101 Mins.
★★★/☆☆☆☆☆