Reviews
Crimes of Mike Recket | TIFF 2012 Review
I'm Gonna Wreck It: Sweeney's Latest a Meek Exercise In Neo Noir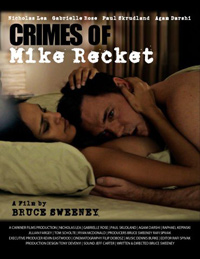 Canadian filmmaker Bruce Sweeney returns with his latest, Crimes of Mike Recket, a police procedural neo-noir black comedy that attempts to use the current economic crises as impetus for a good guy turned bad scenario, one who makes poor moves to rectify his mounting debt. There's a certain degree of playfulness at work here, with Sweeney giving us a rehash of those old B noir narratives from the forties and fifties, replete with a protagonist making unbelievably dumb decisions to fix his current economic situation. But despite this and all around enjoyable performances, there's simply not much to get worked up about in this tale that ends up being more derivative than it perhaps meant to be.
Mike Recket (Nicholas Lea) is a failed real estate agent in a huge amount of debt, which has caused conflict with his beautiful, younger wife Jasleen (Agam Darshi). Mike, who has retained his boyish good looks in his mid-40's, has been kicked out of his home and has been forced to crash with his nagging sister, Gillian (Jillian Fargey). Not to mention, he's also banned from seeing his infant daughter by the petulant, vindictive Jasleen. And suddenly, Mike thinks he's found a solution to all his problems when he meets a lonely, older widow, Leslie Klemper (Gabrielle Rose), of comfortable means. He quickly concocts a scheme to fleece the lonely woman, but, we all know what happens to the best laid plans of mice and men. When Leslie suddenly comes up missing, a dogged but mostly ineffectual lead investigator (Paul Skrudland) is hot on Mike's tail, though our relcacitrant protagonist insists he had nothing to do with Leslie Klemper.
The thing about those old noirs of yore was that those sloppy choices made by simple men trying their best to get ahead was that the time period afforded a certain believability to their nefarious schemes. It was entirely plausible for bank robbers to high tail it out of state and down to Mexico, always a step ahead of the authorities. But in 2012, Mike Recket's sloppiness feels absolutely asinine. That said, Nicholas Lea gives a great performance as a narcissistic man-child that seems accustomed to always getting his way. But if we're going for a film noir paradigm, the most intriguing aspect of the narrative is that Recket also happens to be his own femme fatale. His beautiful wife has already written him off and the lonely old widow is just that, a pitiful target (though Gabrielle Rose also stands out here).
While what happens to Leslie Kemper is told in flashback, we zoom back and forth to the investigators hunting down Recket and piecing together what actually transpired. But the major problem with Crimes of Mike Recket is that no tension whatsoever is built up in the proceedings. By the time our cast of characters is introduced, we're already completely aware of what happened and why, and thus we're trapped into watching it tediously unfold to a conclusion that's also rather a let down. It's as if knowing he had nothing new to say, Sweeney decided to say nothing at all. Certainly, the film looks good, with Vancouver suburbia making an excellent, innocent seeming locale for dirty deeds done dirt cheap, but there's not much to make this any better than a nicely mounted made-for-cable production.
Reviewed on September 11 at the 2012 Toronto International Film Festival – CONTEMPORARY WORLD CINEMA Programme.
116 Min.