Don't Say No: To Revitalizes Cops & Robbers Genre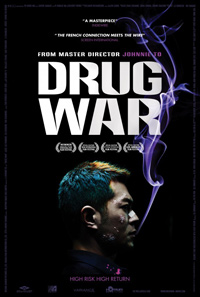 There's a strong possibility that Drug War may stand as (or at least be vying for) the best film of Johnnie To's beloved filmography, and is evidence that he's a master at the top of his game (even if he directly follows it with the schlocky Blind Detective). Shockingly simple, To gets down to the nitty-gritty in the film's opening moments, and then jets off into a slickly paced ride of good guys vs. bad guys, culminating in a deliciously staged, delightfully prolonged show-stopping shoot out. Certainly, the film succinctly delivers on what its title implies, and is arguably neither more nor less. A high octane, yet overly familiar plot relies on charming performances and engagingly sketched characters, expertly using choreographed action sequences for perfect punctuations.
A young drug lord, Tommy Choi (Louis Khoo) speeds down a highway whilst foaming at the mouth in the film's opening scenes. It seems a dangerous explosion occurred at one of his meth labs. Nearly simultaneously, police Captain Zhang (Sun Honglei) successfully completes an undercover anti-drug smuggling operation with the use of a smoking bus at a highway toll booth.
As a group of captured mules is forced to expel the drugs bobbing about in their intestines, Zhang identifies the unconscious Choi, who attempts a daring escape from the hospital. In police custody, Zhang and his colleague Xiao Bei (Crystal Huang) convince Choi that if he doesn't narc on his cohorts, he will face the death penalty due to the high volume of methamphetamines he traffics. While Zhang's team follows a truck containing raw supplies for the manufacturing of meth to Choi's other lab, Zhang and Bei infiltrate an important meeting, first posing as the representative of imposing drug lord Uncle Bill, then pretending to be an infamous drug dealer named Haha (Hao Ping). To snare the infamous and powerful Uncle Bill would be quite the bust for Zhang and his team. A major detail about Uncle Bill's corporation is revealed, while the bust of Choi's second lab goes awry.
While there's nothing innately original about the plot machinations of Drug War, To manages to unfold an elegantly paced thriller that effectively avoids dependence on cliché. Even its classically designed plot devices, where Zhang poses first as an operative for Bill, then as the ludicrously grotesque Haha, is a flourish used many times over (the slick operation is comparative to something similar in Mission Impossible: Ghost Protocol). But even so, Drug War is compulsively funny, exciting, and surprisingly violent in several effective instances. While it's seemingly superficial, and debatably capped with an 'it doesn't pay to be bad' message, To injects some jolly subversion in his proceedings. At the second drug lab, Choi tearfully explains to his employees that his wife died in the lab explosion earlier that day, a camera implanted on his person by the cops watching and listening to every word. Distressed, Choi's faithful employees insist on engaging in a traditional custom of burning sacred papers in homage to the dead, only there aren't any of the customary papers to burn. Instead they burn loads and loads of money. A passel of onlooking police have to pool together a wad of cash for two officers to scurry away on an assignment. It doesn't pay to be a good guy, either.