Deep Throat's Journey: Epstein & Friedman's Porn Star Biopic By-the-Numbers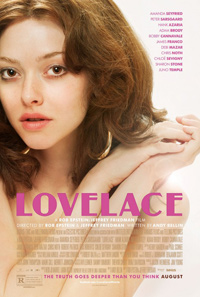 In their first outing not placing significant focus on the recuperation of queer subjects or thematics, filmmaking duo Rob Epstein and Jeffrey Friedman turn to one of the most salacious historical moments concerning heteronormative sex with Lovelace, a biopic on the star of the infamous Deep Throat. While this sophomore feature effort from the documentarians feels far less experimentally pieced together than their 2010 Allan Ginsberg piece, Howl, their approach feels a tad static this time round and, perhaps in effort to be tasteful, almost too sterile. Despite its trappings of the generic biopic dressing, some engaging lead performances tend to outshine its standardized format.
Linda Lovelace (Amanda Seyfried), born Linda Boreman, became the first pornographic celebrity superstar with her one and only film, Deep Throat in 1972. A kind of good girl, an unexpected pregnancy as a teen caused her working class parents (Sharon Stone, Robert Patrick) to uproot themselves from Brooklyn and start life anew in Davie, Florida. But it wasn't long before Linda and new pal Patsy (Juno Temple) started attracting the attention of young men as they danced at a local roller rink.
Linda falls in love with Chuck Traynor (Peter Sarsgaard), an older man that owns a strip joint and promises Linda a fun lifestyle. After introducing Chuck to her parents awkwardly but successfully, Linda has a falling out and soon runs off with him, causing her bitter mother to cut her off completely. Discovering Linda has certain talents involving fellatio, Chuck scores her a movie deal, slowly revealing his true nature as a small time hustler. As filming of Deep Throat commences, Traynor becomes more jealous and physically abusive to Linda, extremely displeased about her interactions with co-star Harry Reems (Adam Brody).
Skipping ahead in time six years, we see Linda undergoing a polygraph examination before publishing her memoir of her experiences being abused and coerced by Traynor. And so the film goes back to flesh out several sequences from Linda's vantage point, documenting the beatings and humiliation she faced at the hands of Chuck. The film follows the aftermath of her publication, Ordeal, and a famed appearance on the Phil Donahue show, where Lovelace has now become a married, working mother of two.
A freckled and brunette Amanda Seyfried is at the center of nearly every scene as the eponymous title would have you assume, and she's quite believably good as the vulnerable Linda. As her lover/nemesis, Peter Sarsgaard is delightfully unhinged as the jealous and abusive Chuck Traynor, dancing out a sort of Dr. Jekyll remix of his An Education scenario from 2009. Less successful are a huge amount of celebrity cameos that probably ensured funding but do little more than distract (such as James Franco as smarmy Hugh Hefner, Wes Bentley, Hank Azaria, Bobby Cannavale, Eric Roberts). Sharon Stone does her best to disappear behind a frumpy brunette wig with a Brooklyn accent, but never seems to get beyond caricature. Chris Noth is surprisingly effective as Anthony Romano, a fictional moneyman that's supposed to represent the vague mob menace associated with the financing which Epstein and Friedman don't really get into, since their focus is Linda and not the making of the film.
However, one excellently placed cameo comes in the form of Chloe Sevigny, another actress famously reviled for an infamous cinematic fellatio scene in 2003's The Brown Bunny. But any extra depth seems to end there, as this straightforward biopic plays out predictably, with a tacked on parental reunion sequence to boot. While Linda Lovelace's side of the story is important, believable, and even noteworthy to the saga of one of the most famous pornographic films ever made, this fictional treatment comes nowhere near being as informative or engaging as Fenton Bailey and Randy Barbato's 2005 documentary, Inside Deep Throat. Clocking in at about an hour and a half, Linda's later years seem neglected, and additional scenes were shot featuring Sarah Jessica Parker as Gloria Steinem, but were cut as Epstein and Friedman decided to end this chapter of Linda's life at 1980. Whether or not there is more material to justify an additional Lovelace film is debatable, but sadly, by skimping on her later years, she's not granted the agency she fought so hard to attain.
Reviewed on January 23rd at the 2013 Sundance Film Festival – PREMIERES Programme.
92 Min.