Garden Snakes: Griffiths' Latest a Harrowing Tale with Compelling Lead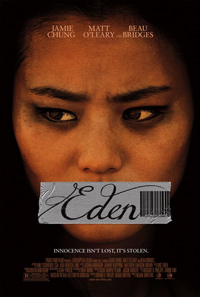 Director Megan Griffith's follows up her well acted yet downtroddingly paced sophomore effort The Off Hours with an unnerving reenactment of sex trafficking from the mid 90s in Eden. While avoiding being exploitative in its depiction of cruelty and victimization, Griffith's film is nonetheless a powerful tale of survival under degrading and harrowing circumstances. Certainly proving Griffiths' growing talents as a director interested in compelling and often off-putting material, this latest work, which won the Audience Award at SXSW 2012, should definitely lead not only its director to wider acclaim, but also its lead actress, whose performance is the heart and soul of this somber tale.
In 1994 New Mexico, Korean-American teenager Hyuan Jae (Jamie Chung) lives an unromantic existence with her parents, who immigrated to the US and now own a small convenience store. After sneaking into a bar one night with an equally underage peer of hers, Hyuan Jae accepts a ride home from a man at the bar. She only realizes at the last minute that she's in danger and she finds herself abducted and carted off to the desert, imprisoned in a self storage facility where a large number of other young girls are held as sex slaves, run by a crooked Federal Marshall, Bob Gault (Beau Bridges). Once there, she is drugged, and her braces are removed by a nurse (Tantoo Cardinal) in charge of supervising the young girls' medical conditions. She's renamed Eden, and is soon placed under the control of the drug addled shepherd of the girls, the tempestuous Vaughn (Matt O'Leary).
After unsuccessful escape attempts, Eden adapts to her surrounding and eventually finds herself in a situation where she becomes Vaughn's confidante and thus secretly becomes his right hand man, even though it puts her in the role of exploiter. Eventually an opportunity arises where Eden may be able to successfully escape as Gault's operations begin to crumble and Vaughn attempts to move the girls to Europe.
After a stint on MTV's Real World back in 2004, Jamie Chung has been a pretty face bouncing around in several big budget Hollywood vehicles, usually fare like The Hangover Part II (she's in the upcoming third installment, too), but with Eden she commands the entire film, turning in a performance that elevates perfunctorily harrowing material into an emotionally engaging and memorable film. While The Off Hours remains an intriguing independent feature from Griffiths, it languishes in an esoteric aesthetic, and with Eden she sticks towards a fairly straightforward linear style, which will perhaps liken a larger audience to the film. The only danger is that as good as the film it, despite its lead performance, Eden feels overly familiar.
Beau Bridges, the most recognizable face here, is never granted enough screen time to register as anything more than a broadly written baddie, in a role that could have perhaps been more akin to something like Tom Arnold's pedophile in 2008's Gardens of the Night. Matt O'Leary turns in a believable performance as the morally bankrupt but not heartless Vaughn, a far cry from his loveable loser turns in Fat Kid Rules the World or Natural Selection. While the implications of Eden are certifiably terrifying, as far as it concerns the possibility and visibility of sex trafficking going on in your own backyard, what's perhaps more dreadful is Griffiths' expertly calculated portrait of the human ability to adapt. On Eden's first sex mission, Vaughn becomes impatient and berates her, causing a dominatrix to chastise him as she interjects, "She's new." Eden is disturbing in that it shows not only degradation, but how we have the ability to become accustomed to it and accepting of it.