Reviews
Heart of a Lion | 2013 TIFF Review
Finding Out True Love Is Blind: Karukoski's Latest Tackles Vehement Racial Tensions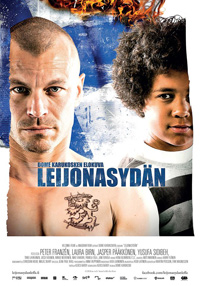 Rising Finnish director Dome Karukoski follows up his hit 2010 comedy Lapland Odyssey with an intensely charged situational drama revolving around racism, Heart of a Lion. Reuniting two of the lead stars from 2012's hailed film Purge (which was Finland's Oscar submission), both of whom disappear into completely different characterizations here, Karukoski returns to favored themes of the disenfranchised frays of societal norms. While the setup feels a titch rushed, Karukoski (returning with Aleksi Bardy, who penned his 2009 film Forbidden Fruit) manages to create a stirring portrait of changing hearts and minds while maintaining the vile and vicious aspects of bigotry often watered down or absent from English language counterparts with this timely tale depicting a rising swell of far-right ultranationalist groups across Europe.
Recently released from prison, Teppo (Peter Franzen) is attempting to find employment and get back on his feet again. After a failed interview, he chats up Sari (Laura Birn), a waitress at a local café, and she invites him on a date and back to her home for other pleasures. In the morning, Sari notices tattoos on Teppo's chest that identify him as the member of a white supremacist group. Disgusted, she asks him to leave, though Teppo isn't quite sure why and he continues to pursue the attentions of Sari.
We learn that Teppo is actually the leader of the local faction of his organization, and Sari has a black son, Rhamu (Yusufa Sidibeh) from a previous marriage. In order to build a relationship with Sari, Teppo seems to accept Rhamu, though the two find themselves at awkward odds in Sari's home. When Sari falls ill and has to be hospitalized for a considerable length of time, it is up to Teppo to care for Rhamu, which must be kept secret from Teppo's racist mates. All is well until Teppo's incendiary brother Harri (Jasper Paakkonen) shows up needing a place to stay after a racially motivated incident causes a dishonorable discharge from the military. As tensions mount, Teppo is forced to make some life changing decisions about what he truly believes.
To say the least, Heart of a Lion places us in a predicament that is uncomfortable to experience. While the story unfolds through Teppo's point of view, Karukoski doesn't shy away from the despicable aspects of the character's beliefs. Remaining an unlikeable presence throughout the first half of the film, Lion's major fault is not spending enough time developing a believable relationship between Teppo and Sari. Thus, Sari becomes a monstrous creature herself, as we have to question what kind of mother would expose her child to such a man, tolerant as he may very well seem. Be that as it may, beautiful and much celebrated actress Laura Birn is actually more of a supporting character here, as the emotional heart of the film is a nuanced and nicely calibrated relationship between Teppo and Rhamu, while the actors portraying them (Peter Franzen, a major star in Finland) and Yusufa Sidibeh are reason enough to see the film.
While Heart of a Lion can't quite avoid being labeled a social awareness film, it's at least a potently engaging one, and manages the difficult feat of conveying realistically damaged and empathetic characters rather than preaching through hellaciously tragic events. Karukoski, who seems adept at graceful moments of offbeat humor even in the strangest of circumstances, and often in emotionally comprised homosocial spaces (such as the home for troubled boys where his equally engaging 2008 The Home of Dark Butterflies is set), is certainly a director of note in the international scene and this lion hearted effort is definitely worth seeking out.
Reviewed on September 6 at the Toronto International Film Festival – Contemporary World Cinema Programme.