Hell is Where the Home Is : Burns' Dismally Heavy-handed Dark Comedy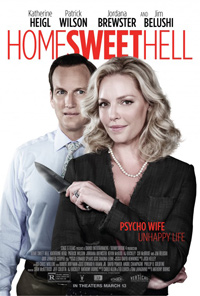 Playing like the crass, harebrained sister of Gone Girl's infidelity issued 'hell hath no fury' treatment like a you-know-what, Anthony Burns' sophomore feature, Home Sweet Hell plays like a watered down knock-off on all variable fronts. Broadly drawn, familiar scenarios littered with quirky supporting characters comprise this crude lump of a movie, hewn from the burnt stump of privileged suburban malaise, a dish once perfected now over baked into mutations of vulgar shock effect. Surprisingly, however, the very aspect of the film that works against its own appeal happens to be the sole point of enjoyment. But it's not enough to make the film worthwhile.
Don Champagne (Patrick Wilson) runs a semi-successful furniture store, employing Les (James Belushi), and recently, one additional employee, Dusty (Jordana Brewster). But Don is definitely not the king of his own castle, kowtowing to his ruthless and ceaselessly persnickety shrew of a wife, Mona (Katherine Heigl), whose main concern is that the new employee not be a Mexican. A meticulous homemaker, Mona has big dreams for her family, schooling their young son and daughter in French, etc. Yet she seems to have a fondness for continually pointing out Don's shortcomings and how her parents help pay for the home and the children's private schooling. Sex is on a rigid schedule, planned weeks in advance. So Don falls immediately into Dusty's vixeny temptation, but soon an illicit affair turns into an unplanned pregnancy. And blackmail. Unsure of what to do, Don confesses his infidelity. But Mona doesn't react the way he was predicting.
We've seen Wilson play this pathetic personification of white suburban schlub a few too many times before and in more entertaining vehicles, from the equally tasteless Barry Munday (2010) to the pedophilic antagonist in Hard Candy (2005), and a host of other milquetoast husbands on either end of the like-ability spectrum (in retrospect, he's entering Michael Douglas territory as one of the most systematically victimized cinematic male leads). So there's nothing remotely interesting about his scenario, continually beaten down by his domineering wife before foolishly engaging the younger woman he's recently hired at his furniture and rug store (which could have been a stronger metaphor) played by Jordana Brewster, beginning to resemble a mix of Margot Kidder and Courtney Cox, and playing her wan siren with a detached abandon.
No, the real prizewinner happens to actually be Heigl, her of the maligned Hollywood reputation for being notoriously difficult to work with. She manages to revel in a role that could easily have been as flat and stereotypical as the rest of the film. True, many of her inane diatribes about the nuclear family sound uninspired and that ridiculous scrapbook of dreamscape 'goals' seems contrived, and one wonders if one or all of the writers were hell-bent on sabotaging the very life raft that keeps their idea afloat by exacting creative vengeance born from experience. But even despite the fact that Heigl's character is merely a novelty meant to generate laughs, which explains why the character acts so stupidly so often (like pawing a vase of white flowers while blood drips off her hands from the body she just dismembered), she somehow seems like one of the B-grade femme fatales absent the bitchy, witty dialogue they were often afforded (we're talking Leslie Brooks, Jean Gillie territory). Boring in almost every other regard, Home Sweet Hell is never as smart as it should be.
★★/☆☆☆☆☆