Music Make You Lose Control: Almodovar's Return to High Camp Shenanigans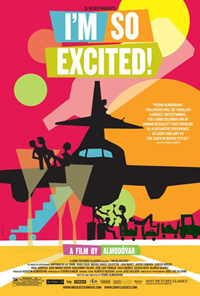 Fans of Pedro Almodovar's early works, like Dark Habits and Women on the Verge of a Nervous Breakdown should be really, really excited for his latest, I'm So Excited, a bawdy, trifling, absurd breath of fresh air that sees the auteur return to zany high camp territory. However, while those early works had a playful subversive edge to them, this latest confection feels a little light on the transgressions, despite some memorably crass moments and minor politically minded jeering.
A technical failure to the landing gear (caused by two airport employees in cameos from Antonio Banderas and Penelope Cruz) puts Peninsula Flight 2549 en route to Mexico City in peril, forcing Captain Acero (Antonio de la Torre) and co-pilot Benito Moron (Hugo Silva) to fly in circles over Toledo. Economy class has been given muscle relaxers and thus are all passed out, leaving a handful of the Business Class aware of the dire situation.
A trio of three very flamboyant flight attendants, including head attendant Joserra (Javier Camara) and his cohorts Fajas (Carlos Areces) and Ulloa (Raul Arevalo) do their best to distract the motley crew with drugs, alcohol, and dance. But the Business Class is a finicky crew, lorded over by actress turned dominatrix Norma Boss (Cecilia Roth), a virginal psychic (Lola Duenas), a famed actor running away from a crazy ex-girlfriend (Guillermo Toledo), a corrupt businessman searching for his long lost daughter (Jose Luis Torrijo), and a quiet hit man (Jose Maria Yazpik). A Valencia cocktail from the flight attendants soon has everyone revealing secrets (and getting sexual) until finally, they all must face the inevitable question of what to do if they can't find an airport that will be able to let them land safely.
I'm So Excited works best in its frivolous zany moments, particularly due to the considerable comedic talents of the three flight attendants that hold the film together, resulting in a song and dance number to the titular track that has to be one of the most enjoyable of its kind in recent film memory. If only the film could have kept up its zany energy throughout.
While Almodovar never tries to tip the film into any seriously contemplative areas (though there seem to be a lot of wink-wink moments at the expense of the political powers that be) the less manic moments take on a rather sluggish pace, such as backstories concerning Torrijo's businessman, or Yazpik's underutilized hit man. Lola Duenas' strangely bizarre psychic is at first unnerving, but her character seems to be at odds with the tone set by everyone else. Almodovar has assembled a fine miscellaneous stew of performers he's used previously, and he gives one of his very first muses, Cecilia Roth, a memorable role as bitchy Norma Boss. Alberto Iglesias' playfully intrusive score has all the dictating crescendos of a melodramatic murder mystery, while Jose Luis Alcaine's cinematography catches the warm hues of the colorful Business Class exterior, which looks like flying inside a colorful Easter egg.
While being as playful as ever with open sexual expression, I'm So Excited also sports the most laugh out loud semen moment since a very infamous 1998 Farrelly Bros. sequence. Even if its own folly will be how it compares to some of Almodovar's more rebellious work in the same vein, it's still a zany breath of fresh air from a filmmaker that still proves he is one of a kind.
Reviewed on June 13, 2013 at the Los Angeles International Film Festival.