An Early Frost: Ekvtimishvili & Grob's Debut a Memoir in Neorealism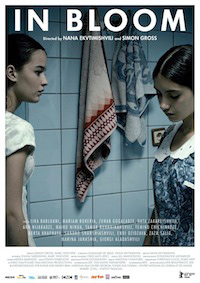 The Georgian entry for 2014's Best Foreign Language Film, In Bloom is the directorial debut of Nana Ekvtimishvili and Simon Grob, and is based on the former's memories of childhood while growing up in 1992 war-torn Georgia. Previously, they made the 2007 film Fata Morgana together (yes, which shares the same name with the famed Herzog documentary), directed by Grob and written by Ekvtimishvili. Whilst set in a notably violent period in the country after its separation from the Soviet Union, leading to an unrest that sparked a three year civil war, it seems the bubble of the adolescent realm seems to supersede all even in the worst of times. But for young girls on the cusp of developing into well-adjusted young women amidst such tumultuous times seems next to impossible, female agency dashed upon the rocks of a rigid patriarchal system in a culture that was still engaging in staunchly archaic social practices.
In 1992 Tbilisi, fourteen year old Eka (Lika Babluani) grows up with her distant mother and aloof older sister while her father remains in prison (for a crime that is quietly mentioned later). Her only bond seems to be with the outspoken Natia (Mariam Bokeria), who resides in an emotionally volatile household where her drunken father often beats her mother. One of Natia's male admirers gives her a handgun for her protection, and we begin to hear snippets of bitter interjections from resident adults concerning the violent conflict taking place nearby. While the numbed denizens only seem to be jostled out of their vacant glaze to fight viciously in bread lines or to snarl in vain at one another, Natia and Eka discover a newfound power with their handgun, a key to the masculine, aggression that affords them the ability to stand up for themselves, particularly for the meek Eka. But things change when Natia is abducted by one of her suitors and finds herself married off in an acceptable custom known as bride kidnapping.
The world of Natia and Eka is a strange and unique landscape, Oleg Mutu's (the prolific cinematographer who works regularly with Sergei Loznitza and Cristian Mungiu) long, static shots of a blue, icy landscape may as well be depicting some nihilistic post-apocalyptic tale.
Uncomfortable tension is immediately pronounced at the arrival of the handgun that Natia seems so eager to wield, and nearly every sequence has us guessing if it will make a tragic entrance. While violent actions do transpire, however, it's never quite as we expect. Natia and Eka are on opposite trajectories, and we see the confident Natia locked into a poisonous union as a kidnapped bride (her family would be shamed if she were to refuse the aggressive suitor), while Eka begins to find her own voice, standing up to her demeaning teacher and disinterested mom and sister.
The most interesting element of all would have to be all the sequences that transpire in bathrooms, the only private space for females without an omnipotent male presence. This is where items between our female characters are exchanged and hidden, where they are able to share information. It's a cold world, and one that doesn't quite reach the dramatic payoff we've probably become accustomed to seeing in these types of tales.
Already receiving lofty comparisons to neorealist classics of Rossellini and De Sica, In Bloom certainly does belong to the same cinematic tradition, even if it never quite manages to be as memorable or transgressive. Instead, watching the fates of Eka and Natia, we begin to feel a bit glazed over ourselves.
★★ 1/2 / ☆☆☆☆☆