Fear Me Not: Lovering Terrorizes Our Time, Not Our Senses in Feature Debut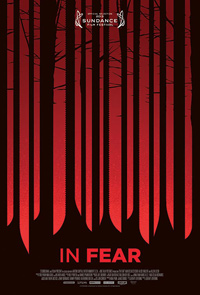 After working quite regularly in television since the mid 90s, British director Jeremy Lovering debuts an experimentally filmed horror title, In Fear, produced by none other than Nira Park, a force behind not only all of Edgar Wright's titles, but similar humored fare like Attack the Block, Paul, and the soon to be released Sightseers. To see Park's name attached is quite misleading, as Lovering's title is a straight up psychological thriller exercise nearly devoid of humor. In fact, Lovering actually hid the script from his two leads and they were unaware, beyond perhaps a basic premise, of what would happen during day-to-day filming. It's too bad that, with such intriguing promise (and two leads that are sure to be quite recognizable faces over the coming year) that the end result is overbaked and underwhelming.
On their way to a music festival, Tom surprises (Iain De Caestecker) Lucy (Alice Englert) with reservations at a romantic, isolated countryside resort en route to their destination. It just so happens to be their two week anniversary, and Tom seems eager to prove his devotion. Luckily, Lucy accepts his invitation and soon they're poring over his printed out directions as they drive down narrow back roads with dusk quickly settling in. They soon realize that they've been driving in circles, leading the couple to get a bit snippy with each other. After stopping the car and exploring the dark woods, it appears that someone or something may be following them, perhaps the person driving that van with the hotel name on it that was supposed to lead them to where they needed to be. Driving in a panic, Tom accidentally hits Max (Allen Leech), a young man bloodied and bruised who claims to be fleeing the same unknown assailant. But soon the couple find themselves questioning their allegiance to one another as well as the stranger that's now stuck with them in their only safe space.
It's obvious that Lovering is going for a mobile home invasion motif, and the set-up of In Fear is undeniably unnerving. As night descends and the couple realize they're lost, a tense claustrophobia sets in that's exacerbated when we learn that something nearby is stalking them. But it's not long before Lucy and Tom fall into the genre trap of making nonsensical clichéd decisions, such as bickering with the car door wide open when they know something might be right outside. By the time the stranger comes along, we can see Lovering's ideas clunkily spinning concerning how we are manipulated by fear, culminating in a finale that may be trying to avoid predictability but still only manages to feel wearisome.
As Lucy, Alice Englert still has yet to prove her ability as an engaging screen presence beyond just being known as director Jane Campion's daughter. Her lead role in the young adult adaptation Beautiful Creatures will surely catapult her career, but between Fear and her colorless turn in Sally Potter's Ginger & Rosa (a film dominated by a performance from her American co-star, Elle Fanning), Englert has yet to advance beyond nepotistic name drop. Her yowls of rage towards the film's climax spark comedy and not the necessary icy terror into our hearts, and one wonders if Lovering's unwillingness to let his cast rehearse was instrumental in Englert and Caestecker's complete lack of chemistry and on screen charisma.
Reviewed on January 23 at the 2013 Sundance Film Festival – MIDNIGHT Programme.
85 Min.