Cold Cuts: Östlund Examines Behavior Unawares in Astute Sophomore Feature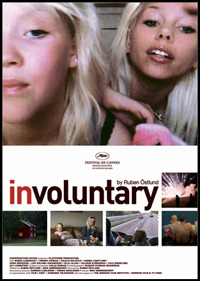 While Ruben Östlund's 2004 feature debut The Guitar Mongoloid first played with examinations of human behaviors, the director would further hone this angle more succinctly with his 2008 sophomore film, Involuntary. Premiering in Un Certain Regard at Cannes, it would march forward through a resiliently delayed festival circuit before last reaching theatrical release in the UK (and never awarded US distribution). Again shuffling through various characters free of any discernable narrative, Östlund focuses on more uncomfortable behavioral patterns, perhaps more slightly defined by humans left victim to the consequences of their inability to help themselves or a dogged insistence on ignoring clearly defined social mores.
Earlier comparisons of Östlund to titles from Roy Andersson like You, the Living (2007) and Songs from the Second Floor (2002) seem more justified with the dark streaks of humor laced throughout Involuntary. But he's also reminiscent of fellow countryman Tomas Alfredson's 2004 debut, Four Shades of Brown, a more focused quartet that develops similar crescendos of discomfort and even violence (or at least the threat of it). Likewise, the social discord set against the rising temperature of the encroaching summer season recalls the near anthropological detail of Ulrich Seidl's Dog Days (2001). Humans are defined or even announced by the significance of their body parts, such as a gaggle of legs opening the film, shuffling about a rather dry, uninviting party, followed by the back of an emotionally jarred bus driver's head, and the torsos of vapid blonde teen girls posing endlessly for photographs of themselves. Again, people find themselves in strange situations, though the threat of more dire consequences seems inevitable in Involuntary, which oscillates between laughably perverse and startlingly uncomfortable.
Östlund's film is made all the more unique for how it utilizes its characters to process these behavioral patterns. A disturbing sexual assault between two male friends is later rationalized by the victim to his girlfriend, an example of how culturally acceptable it is to dismiss masculine indiscretions after the fact as somehow appropriate or justifiable based on historical interactions within the parameters of that relationship.
Teenagers and children and how they factor into their environment figure prominently throughout Involuntary, which feels like a logical stepping stone before the inescapable discomfort of Play. The teen blondes we follow are boisterous and obnoxious when on public transportation (and not unlike a group of kids disrupting the harmony of an actress played by Maria Lyndqvist on her travels), leading up to the precipice of a dangerous altercation in a park where an older man transports one of the unconscious teens back to her obviously clueless mother.
Children are used more peripherally in other segments, such as the angered bus driver who refuses to transport his travelers until one admits to breaking a curtain rod in the bathroom, or as the catalyst for the film's most uncomfortable sequence between one teacher who calls another out for an abusive reprimand against a delinquent child. Languishing in the threat of being viewed as the staff pariah, Sara (an excellent Sara Eriksson in her only on screen role to date) engages in another pointed interaction between staff members that manages to be as hilarious as it is awkward.
Many cast members are making their debuts here, several who haven't acted since while others have gone on to other notable films, such as Vera Vitali (Eskil Vogt's Blind, 2014). This marks Östlund's first of three pairings with cinematographer Marius Dybwad Brandrud, who would also work on the short Incident by a Bank (2009) and Play (2011). While their works together feature characters crossing boundaries and lines, their visual artifice does not, fixed frames focused on fluid compositions of distressed humans engaging in the inescapable and untoward actions of supposedly civilized people. Involuntary is a series of slides being ushered through Östlund's microscope.
Reviewed as part of the In Case Of No Emergency: The Films Of Ruben Östlund Retrospective – January 10th, 2015.
★★★½/☆☆☆☆☆