Beyond Therapy: Brown's Illogical Entry of Femme Revenge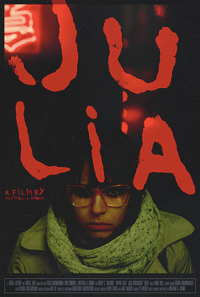 For the most part, director Matthew A. Brown presents his directorial debut Julia without the exploitative flourishes notoriously featured in the classic genre cinema influencing his narrative. A rape revenger thriller that basically plays like a sanitized version of 1978's I Spit on Your Grave (recently remade in 2010, followed by two sequels, items that only prove you can take the tale out of the 70s but perhaps not the other way round), Brown creates a compelling vehicle for actress Ashley C. Williams, whose name may not ever be mentioned without reference to her 'participation' in contemporary torture porn's most iconic confection, The Human Centipede (2009). Despite its still relevant 'take back the night' yearning, Brown seems uninterested in patching up a variety of major illogical plot holes plaguing the initial set-up while failing to achieve anything innovative by way of an achingly predictable finale. Still, at the very least, its commitment to a somber tone is at least a departure from the genre's modern marriage with comedic overtones.
Julia (Williams) is an unassuming, fashionably bespectacled young woman who works as an assistant to a plastic surgeon. Meeting a young man she knows from her social sphere, Julia is drugged, brutally raped by him and three of his friends, and dumped at high tide so her body will be carried off to sea. But Julia survives the attack, and rather than report the crime to the police, she calls in sick for a week from work and descends into a binge of liquor and cutting to relieve her emotional pain. Crawling into a local NYC pub several nights in a row, Julia overhears a group of women talking about a unique form of therapy for women who are victims of rape. Tentative inquiries lead her to recruiter Sadie (Tahnya Tozzi), who puts her in touch with Dr. Sgundud (Jack Noseworthy), a man who explains his therapy regime to Julia, which involves not reporting the crime to police or making her pain 'personal.' Soon, Sadie inducts Julia into their night time sessions which involves baiting strange men in bars and castrating them.
Reflections of gender disparity, particularly in the trenchant social codes of the heteronormative, require more inventive modifications than Brown's scenario conjures. Though Julia's harrowing experience occurs out of the frame, thus avoiding the considerable disgrace and shame often associated with severe sequences of rape (Lipstick or the original version of The Girl with the Dragon Tattoo come to mind) and allowing her greater leverage for vengeful agency, Brown's insipid scenario robs the character of believability.
Williams is particularly good, however, especially in sequences one readily dismisses between the cause and effects depicted in these kinds of films. But this secret therapy club is problematic from its introduction, an off-screen Jack Noseworthy (he doesn't make a visual appearance until the finale) explaining the aggravatingly vague rules of their particular brand of psychological rehabilitation. For instance, what's to stop sociopathic types from joining in on the retribution? Additionally, it doesn't take a Psych Major to immediately balk at the aim of the therapy, at least in how it denies victims from directly addressing their own assailants. And what about those group of young men that assault Julia, presented like the US chapter of the despicable white youths in Lone Scherfig's The Riot Club? Despite the gnawing guilt experienced by one member, they're all retrograde monsters, along with a bevy of other strikingly handsome male bar patrons. One wonders what Julia would seem like had some of the group's targets been of a sadder sort.
Besides Williams, whose performance is reason enough to watch the film (co-star Tahnya Tozzi and her sultry accent lends the film a bit of Euro-trash glory), DoP Bergstein Bjorgulfsson (who has worked on a number of visually vibrant Icelandic features, like Of Horses and Men and Baltasar Kormakur's The Deep) creates a moody aesthetic of inherent danger mixed with the titillation of the seedy nightclub scene, including the title's most arresting sequence featuring Williams strut through a smoky dance floor. Ultimately, Brown isn't adding anything new to the conversation, especially compared to something like Austin Chick's underrated 2012 film Girls Against Boys.
★★/☆☆☆☆☆