Reviews
Kill Me Three Times | Review
Hold Me, Thrill Me, Kill Me: Stenders' Comedy Noir a Blend of Standard Tricks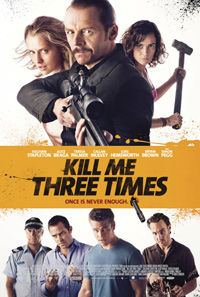 Australian filmmaker Kriv Stenders lands his highest profile project yet with sixth feature Kill Me Three Times, a comic rural neo-noir starring a cast of notable local talent and the pleasant persuasion of Simon Pegg in a slightly villainous pale. Affably entertaining as it navigates us through the usual set of devious double crossings that eventually converge into a grand cluster of shenanigans, none of its characters are very carefully drawn, and the film sometimes feels victim to its own familiarity. With stakes that are never high enough and dark comedy that's never cynical enough, James McFarland's screenplay never supersedes its cinematic inspirations, and settles a bit too snugly into a derivative sheath.
Assassin Charlie Wolfe (Simon Pegg) lies mortally wounded, more startled at the fact that he may indeed die outside of a decadent beach house in rural Australia. We back up in time through three various segments explaining how Charlie came to be involved in a nefarious plot to at first tail abused and dissatisfied wife Alice (Alice Braga) at the bidding of her jealous husband Jack (Callan Mulvey). Upon trailing her, Charlie learns that Jack isn't the only one with devious designs on Alice, finding that Jack's sister Lucy (Teresa Palmer) and her doltish dentist husband Nathan (Sullivan Stapleton) are in the midst of trying to kill Alice, using her body to make it look like Lucy is dead, allowing the couple to collect insurance money and pay off the crooked cop (Bryan Brown) hounding them. Meanwhile, poor Alice just wants to run away with her new beau, Dylan (Luke Hemsworth).
Pegg's bemused hit man is the definite anomaly here, serving as the omniscient narrator guiding us through a familial viper's nest of backstabbers. Whereas Pegg usually enlivens his surroundings with customary charm, his detached antagonist does little more than provide us with a framing device that often feels unnecessary—mostly because he's a two-bit scoundrel without any real defining characteristics.
Pegg seems like he's enjoying playing against type, but his cold-blooded demeanor is lazily related (taking a phone call during a kill, demurely placing the caller on hold while he finishes the job is one of several clichéd instances). More entertaining are the opposing females, particularly a vicious Teresa Palmer, recalling those ice-hearted blondes of yore, clearly wearing the pants in relationship with the spineless Sullivan Stapleton (rather nondescript here, but an interesting departure if you happen to catch his sinister turn in period noir Cut Snake). Also, Alice Braga, who is often rendered insubstantial in many ensembles, is a sympathetic force here, undergoing a grueling bout of life threatening scenarios. Her romance with the eldest Hemsworth brother is explored as superficially as the one with her husband, rendering all the male characters as mere pawns in Stenders' greater scheme (including a nice small bit from Bryan Brown).
Considering no one is actually killed three times in Kill Me Three Times, Stenders' retrofitted narrative often feels too smugly aware of the heavily stylized films he's aping, and there's a forced jauntiness to this B flavored noir that would have been better served had it been played cold and hard.
★★½/☆☆☆☆☆