Reviews
Killing Them Softly | Review
What It Don't Get I Can't Use: Dominik's Latest Period Piece Explores the Mob's Economic Crises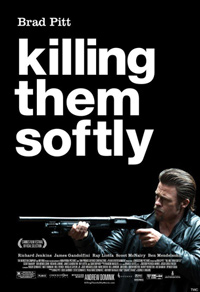 Life imitates art, it could be argued, with Andrew Dominik's latest film, Killing Them Softly, a talky genre effort with the repetitive din of the 2008 presidential elections buzzing in the background, and the economic recession nearly materializing as a physical character itself, so many times it is invoked as the impetus for each character's action. Because of its heavily stylized and overt nihilism about the ignorant posturing of American life, Dominik's latest film may not receive the championing reception it deserves, but several decades from now, a generation or two removed from the financial woes of 2008, should grant the film a reputation of note, even if the plot is perilously paper thin.
Johnny Amato (Vincent Curatola), who runs a dry cleaning business with underworld ties on the side, has come up with an idea to rob a mob-protected card game. In order to do this, Johnny hires Frankie (Scoot McNairy), a freshly paroled criminal, in need of some fast dough. For a second gunman, Frankie brings along a seedy Australian junkie, Russell (Ben Mendelsohn), currently operating his own dog theft business (not unlike a similar scheme by some fluffier characters in this year's Seven Psychopaths). Because the card game's dealer, Markie Trattam (Ray Liotta), knocked over his own card game once before, and not only got away with it but later bragged about it, Johnny Amato figures that if the game gets hit again, Trattam will take the fall, even if he's found to be completely innocent. After Frankie and Russell commit the deed, the mob brings in a seasoned enforcer, Jackie Cogan (Brad Pitt), who works for the infamous Dillon (Sam Shepard), a crotchety type currently suffering from debilitating health issues. Because Jackie personally knows one of the responsible parties, he contracts Mickey (James Gandolfini), (much to the chagrin of the Driver (Richard Jenkins), who must seek approval for all of Cogan's budgetary issues from the people in charge), to help complete the job.
Dominik cites Peter Yates' underrated 1973 Robert Mitchum starrer The Friends of Eddie Coyle as the originating inspiration, motivating him to explore other novels by George V. Higgins, who wrote that source novel, which lead him to stumble on Higgins' Cogan's Trade. Dominik's modernization of Higgins' novel, however, tends to makes every obvious 2008 reference seem anachronistic, creating a sort of ragged resistance for the unsubtle modern day woes to tether into the brassy underworld landscape. Just as Yates' film opened to less than satisfactory box office results, Killing Them Softly has weathered critical lashings since its Cannes premiere earlier this year, despite headlining aging heartthrob Brad Pitt, reuniting with Dominick after their 2007 critical success The Assassination of Jesse James by the Coward Robert Ford.
Dominick's crime flick is more of an anti-thriller, instead taking on the capacity of a mean-spirited character study. But whereas Mitchum was our titular protagonist of Yates', here, we're given a stained composite of America, standing in as a never seen femme fatale, an uber bitch siren that leads men into her sanctum where they struggle in futility, until they expire, like moths singeing themselves on the cruel glass of the heated lightbulb. We certainly never get beyond the surface of Pitt's not completely uncaring Jackie Cogan, who prefers to kill his targets softly, from a distance, so as not to be tainted by the emotion of it all. His fear of emotion, in fact, gives us the highlight of the second half of the film, where we get a down and out James Gandolfini as a has-been East coast hit man, flown in to kill one of the targets that Pitt knows personally. But even as the first half of the film, which engenders genre rules, giving us an intense heist sequence which ripples into small bursts of excessive and beautifully photographed violence, Killing Them Softly pulls a bait and switch, and turns into an arduous exercise spinning endlessly around the notion of money.
Just as Dominick bludgeons us with the on point snippets of sound bites from McCain and Obama, so does he carefully choose his modulated soundtrack filled with vintage tunes that not only help make the film feel like a throwback but only further highlights the false veneer of entertainment as well as the lip service of the political machine, neither managing to address real life, but only helping us escape from it into notions, ideas, or distracting performances.