L'Amant double | 2017 Cannes Film Festival Review
Double the Pleasure, Double the Fun: Ozon Hearkens Back to Enfant Terrible Days with Erotic Skin Flick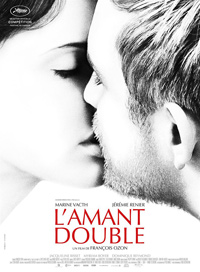 The forgotten art of the campy erotic thriller bursts back into full bloom with Francois Ozon's latest L'Amant double, a tacky, tawdry charnel hut which succeeds in provoking equal measures of perverse titillation and uncomfortable guffaws. When a sickly waif of a woman is urged to explore the possible psychosomatic origins of her nagging stomach pains, an unprovoked romance prospers with her therapist, leading to a cozy domestic idyll quickly interrupted by the discovery of some secrets he'd been keeping from her.
Opening with an unforgettable close-up of a vaginal examination dissolving into the teary eye of the protagonist is one of many femme centric considerations which makes this Ozonian thriller the yonic equivalent of art-house trash we've all been waiting for.
Chloe (Marine Vacth) is urged by her gynecologist (Dominique Reymond) to see a psychoanalyst regarding her nagging gastrointestinal issues. However, upon meeting with Paul (Jeremie Renier), Chloe finds her growing attraction to him getting in the way of their therapy. Paul's feelings are mutual, and soon after ending their professional relationship, they move in together. But Chloe quickly realizes she doesn't know much about Paul after all, and upon learning he changed his last name as a young adult, she begins to dig into his past. Immediately, she discovers Paul has a twin, who is also a psychoanalyst, albeit one with significantly unorthodox methods. Feigning a need to consult him, she soon embarks on an affair which begins to burn out of control.
Ozon's twin leitmotif recalls the obsessive erotic thrillers of Brian De Palma, a garbled barrage of doppelganger red herrings which casts doubt on Chloe's psychological state. The possibility we're merely existing in the mire of her repressed sexual fantasies is always hovering on the periphery. But if De Palma comes to mind, so does a slew of other 70s era genre stalwarts, and Amant Double seems to have been influenced by the body horror of Cronenberg, most obviously Dead Ringers (1988) and The Brood (1979).
Marine Vacth, who returns to work with Ozon after her rise to fame in his 2013 drama Young and Beautiful, is presented as a morose pixie-haired wastrel who left behind her modeling days to pursue work as a security guard in a museum, though she still has no apparent interest in food, enhancing a sallow visage which recalls the eternal suffering of Mia Farrow's iconic turn in Rosemary's Baby (1969). When things take a kinky left turn into dominatrix territory, the ghost of a transgendered Raquel Welch raping her lusty love interest with a strap-on dildo in Myra Breckinridge (1970), albeit in the most loving way possible here, also comes to mind in Ozon's latest pastiche of dueling kitty cats and vaginal canals. Stereotypes of dominance and gender dynamics are playfully explored, even if an ultimate reveal is so illogically insane it ends up negating its merits of subversiveness.
For those who recognize the capabilities of glossy trash, Double Lover is right up there with Verhoeven's velvet-tipped bits of Hollywood erotomania. A memorable dream sequence in which Chloe fantasizes about her twin brother lovers in a steamy three-way is the kind of perfection which finds Ozon at his most boundary pushing since his early days of Sitcom (1998) and Criminal Lovers (1999), reuniting him with Jeremy Renier, who headlined the latter title.
Supporting female players include Jacqueline Bissett (who gets one generously fun moment) and Myriam Boyer as the nosy neighbor who proves to be a poor babysitter for Chloe's cat. A late flourish recalls Stephen King's The Dark Half, which also deals with issues of a 'parasitic twin.'
L'Amant double comes as something of an outré surprise from Ozon, whose last film was the somber WWII era film Frantz (2016), while the auteur hasn't really explored the underbelly of the sexual female psyche (at least according to Ozon's parameters) since 2003's Swimming Pool.
Expert DP Manuel Dacosse (Alleluia; Evolution) provides the perfect visual flourishes in this hall of funhouse mirrors, including some expert comedy courtesy of some vocal felines. A generously foreboding score from Philippe Rombi (Swimming Pool; Under the Sand) also makes its presence known frequently, to fitting effect. Sleazy in all the best possible ways, this superficial little formulation of one woman's bizarre predilections knows how to live deliciously.
Reviewed on May 25th at the 2017 Cannes Film Festival – Main Competition. 107 Mins.
★★★½/☆☆☆☆☆