Gentrified Agreement: Sachs' Poignant Examination of a Childhood Friendship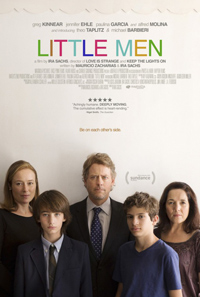 For his sixth feature, Ira Sachs returns to Brooklyn with Little Men, a perceptive study of a friendship made tenuous by the apathetic realities of gentrification. While such a description seems to guarantee a pointed examination of untoward socioeconomic realities, it's a quietly discerning exercise in human connections agitated by unfortunate circumstances. Built carefully around two newcomers and featuring a seasoned international supporting cast in the adult roles, it's another wonderful assortment of vibrant, complex lives from the director and his partner/screenwriter Mauricio Zacharias, following collaborations on Keep the Lights On (2012) and Love is Strange (2014). Tender and tragic, it's an unpretentious portrait of love and friendship tempered by powers beyond its characters' control, building poignancy as affirming as it is staunchly sorrowful on certain inevitabilities.
Following the death of his grandfather, Jake (Theo Taplitz) is forced to move with his parents Brian and Kathy (Greg Kinnear, Jennifer Ehle) to the spacious apartment they've inherited in Brooklyn. At first dismayed at the change, the quiet middle schooler builds a fast friendship with Tony (Michael Barbieri), the gregarious son of Leonor (Pauline Garcia), the woman who runs a shop in the same building. But when Brian demands a new rent agreement from Leonor, an immediate dispute rises between the families since she cannot afford the proposed hike for the modest space. The two young boys remain steadfast in their friendship, but the adults in their lives make this increasingly difficult.
The success of the film is owed mostly to the naturalistic energy of newcomers Theo Taplitz and Michael Barbieri, believably navigating a course of a casual friendship to platonic euphoria. We get the sense Jake might eventually discover he's gay, based on a number of hints relating to his disinterest in girls and a school assignment requesting he write a poem about someone he loves (of note, his teacher reads Poe's famed "Annabel Lee," while Garcia's character is named Leonor, similar to another poem on a dead woman from the morbid author, "Lenore"). But his requited feelings with Tony are of the precious kind unfettered by social expectation or sexual orientation, as rightly pointed out by Jake's dad, played by a likeable Kinnear, who knows those friendships become more infrequent with age.
An aside features Kinnear engaged in a theatrical production of Chekov's The Seagull (a sequence featuring a brief appearance from Yolonda Ross), and thoughts stray immediately to similar themes between Little Men and The Cherry Orchard. But Sachs and Zacharias aren't focusing on class and property so much as the notion of identity and the artist's pursuit of meaning.
Both Kinnear's Brian and the aspiring acting dreams of Tony could be read as different facets of Chekov's Arkadina and Nina, where endurance overrides achievement or actualization. While layered, textual references may be sprinkled throughout (not unlike comparison of Love is Strange to items such as Tokyo Story or Make Way for Tomorrow), Sachs is at his most profound when capturing those effortless, often invisible moments of authenticity of human interaction. A surprisingly dour Paulina Garcia (Sebastian Lelio's Gloria), Jennifer Ehle as a warm but over-worked breadwinner share, and Kinnear as an actor who can't seem to hide his impatience all share moments of uncomfortable despondency, each acting out of a self-interest perhaps unpleasant, but realistic nonetheless.
★★★½/☆☆☆☆☆
Reviewed on January 26th at the 2016 Sundance Film Festival – Premieres Programme. 85 Min.