Let What is Broken So Remain: McGuiness' Debut Familiar, Mesmerizing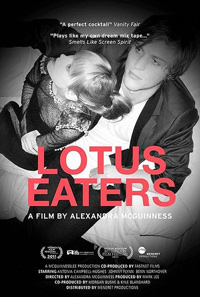 "Ah, why should life all labor be?" asks Lord Alfred Tennyson in a line from his poem, The Lotus-Eaters, with which Alexandra McGuiness' film debut shares its title. First referenced as the main source of food for sleepy island dwelling folk in Homer's Odyssey, the lotus is a fruit and a flower that acts like a narcotic when consumed. It's a fitting allusion for a film that deals with a posh group of London twentysomethings hollowly attending endless parties together as they apathetically pursue glamorously impenetrable careers.
Alice (Antonia Campbell-Hughes) suspects that she's getting a titch too old to continue pursuing her career as model, and thus sets her sights on the next best thing—acting. She's not quite over the break-up with her ex, Charlie (Johnny Flynn), who is addicted to heroin and rather self-involved when it comes to Alice's feelings. But there's never a suitor far away from Alice, including a number of young men in her close circle of friends, including Marlon (Alex Wyndham) and Felix (Benn Northover).
An interesting dynamic develops between Alice and Orna (Cynthia Fortune Ryan), who seems to be trying to set up Felix with the aspiring thespian. It seems everyone is generally annoyed by Felix's younger girlfriend, Suzi (Amber Anderson) whose youth permits her to pout and out-pose the rest of them. While tragedy strikes one of their members, Alice allows a relationship to develop with Felix, and it's slowly revealed that Orna may have more insidious designs than merely being Alice's friend and confidante. Luckily there's always a party to go to and plenty vacations to plan.
Gorgeously shot in black and white by cinematographer Gareth Munden, the expert visual framework at first reduces the pretentious subjects to bauble headed ciphers you'd find in an elaborately filmed advertisement for jeans or Coca Cola. But just as you're about to sign off on McGuinness' film (the daughter of U2 manager Paul McGuiness) as merely a vaguely connected series of music videos, a combination of image, character, and sound suddenly blends nicely together in the second half to become an intoxicating metaphor, particularly in its final illustrious frames.
Antonia Campbell-Hughes manages to be an engaging presence, the most hopeful soul in this mix of free floaters hopelessly and nihilistically self involved. With the exception of an off key Amber Anderson, who is upstaged by her character's pet lemur, most of the supporting cast feel fittingly banal as bored and quickly aging beautiful creatures, particularly Cynthia Fortune Ryan as the onerous Orna, always looking as if she's on her way to Swan Lake rehearsals with Bride of Frankenstein inspired hair. The male characters feel less noteworthy, particularly Alice's ex-lover Johnny Flynn, and the new suitor, up and coming Benn Northover (who some may recognize from either the last Harry Potter film or a Belgian AIDSploitation drama, House of Boys).
Unfortunately, all take a second seat to the amazing soundtrack, an amalgamation of British indie rock bands, and McGuinness even includes live performances from Little Death and O Children. While Lotus Eaters may be written off as merely another example of angst among the beautiful members of the upper classes, McGuinness manages to craft her film into a tapestry reminiscent of the way Schlesinger dissected London in the swingin' sixties.