Locks of Love: Pacino Engrosses in Slight Narrative from Green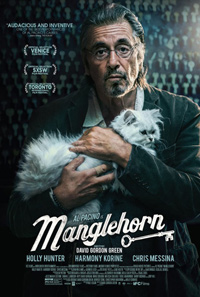 David Gordon Green continues his examination of masculine relationships in Manglehorn, an adaptation from first time screenwriter Paul Logan. Another Texas set endeavor, Green's use of a forlorn and raggedly unhappy Al Pacino is definitely the film's greatest asset, but isn't always enough to overcome a rather nagging sense of narrative meagerness. Buoyed by several flights of tangential fancy amongst a handful of supporting characters, Green does what he can to elide the overreaching metaphor of the lovelorn locksmith, doomed, as if a figure in some Greek tragedy, with the inability to unlock his own box of potent emotional possibilities.
A.J. Manglehorn (Pacino) is a lonely and eccentric locksmith living in small town Texas. Business is slow, and he spends his days mulling over the love of his life, a relationship he mangled nearly forty years ago. An empty shell of a man, he's estranged from his successful son (Chris Messina), and spends most of his time commiserating with his cat, a creature that has stopped eating and needs medical attention. However, a deepening friendship with a bank teller (Holly Hunter) may be just what he needs to move out of the past and into a brighter future.
It seems grizzled old widowers and bachelors share an equal affinity for feline companionship as their clichéd female counterparts, with Pacino (and Bill Murray in this year's St. Vincent) occupying space with a long haired companion. It's amusing to see Pacino's Manglehorn utilize his one emotional outlet with such compassion, which surpasses any onscreen human interaction. This would be on purpose, however, since he's got a gift for relating to animals rather than other people. Scenes shared with his estranged son played by Chris Messina aren't without a certain amount of dramatic merit, even though they're particularly predictable. Likewise, Holly Hunter seems a bit too young to be Pacino's love interest, much less ready for a senior discount at a pancake feed. Their romantic involvement seems forced, something there simply to occupy time.
More enjoyable is the compelling turn from Harmony Korine as a burned out acolyte of Manglehorn, devoted to the old man because he once coached his sports team. It's a relationship that reeks of small town camaraderie, a bond that seems stronger than blood. Their scenes recall Green's earlier expressions of rural existence, the way denizens of a particular time and place keep each other down by prizing the distant memories of the embellished good 'ole days.
It's no mistake that the object blocking the cat's bowels is a key it swallowed, a direct metaphor for Manglehorn's own emotional stagnation, his anguish over his lost love blocked perilously from reconciling itself. Absorbed in its examination of regret and the downfall of championing a masculine tendency to ostracize those you love most, Manglehorn is a quiet, even simple film from David Gordon Green. Featuring an understated and highly enjoyable performance from Al Pacino, it may feel slight, but Green is never trying to exaggerate a tale that's about the difficulty of moving beyond regret.
Reviewed on September 6th at the 2014 Toronto International Film Festival – Special Presentations Programme. 97 Minutes
★★½/☆☆☆☆☆