What's the Matter with Havana?: Cronenberg's L.A. Story a Hot Mess of Tangled Ideas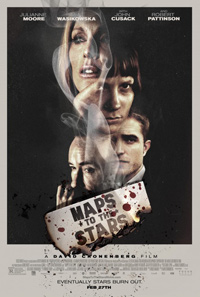 Couched within its episodic instances of harpooning Hollywood stereotypes, there is a rather interesting tale in Maps to the Stars contending as a wobbly family saga of vacuous types tainted by their desperate attempts to maintain a certain visibility within celebrity culture. But it's an idea lost in its own maddening attempt at actually engaging in the mythos pointedly laid out in its own subtext as pertains to provocative motifs like incest, nepotism, and (literally) ghosts from the past. The result is a maudlin brew of wacky circumstances and over-the-top flourishes that sometimes work, but, more often than not, fall flat the longer running the time wears on. While it very much feels like a Cronenbergian endeavor, its pointed critique of a particular empty headed culture ends up feeling like a series of wink-wink potshots, hovering around the level of soap opera as interpreted by V.C. Andrews.
While actress Havana Segrand (Julianne Moore) struggles to reinvent her career by landing the lead role in the reimagining of a film her mother had once made famous, unresolved issues from her past return to haunt her as she begins to be visited by her mother's dead ghost (Sarah Gadon). But, fame is something Havana will do anything to maintain (including flooding the tabloids with lies about her mother sexually abusing her shortly before the woman's tragic end in a fire). Meanwhile, a Hollywood family attempts to maintain the continuation of their main cash flow by keeping wayward adolescent son Benjie (Evan Bird) away from drugs so the studio will permit him to film the third installment of his lucrative Babysitter franchise. But as mom Christina (Olivia Williams) and his dad, author Dr. Stafford Weiss (John Cusack) stay mainly wrapped up in their own affairs, their past also comes back to haunt them. Arriving off a plane from Florida, Agatha (Mia Wasikowska) comes bearing scars inside and out, developing a fast friendship with a limo driver (Robert Pattinson) as she attempts to make an entry in the Hollywood scene with some unresolved baggage to unload.
Leaving behind the dialogue heavy form of his last two films, Cosmopolis and A Dangerous Method, Cronenberg makes his way to the City of Angels for the very first time, from a screenplay from Bruce Wagner. Clearly, this has been written by an author with a cadre of ridiculous industry tales to draw from for the mise en scene, which may be fascinating, but an overdependence on them cripples the film from moving forward. True, some of these are laugh out loud sequences, particularly those pertaining to Benjie's Babysitter franchise, which sees the Frankie Muniz-like star vacillate between feeling marked disdain for fame, which mutates into obsessive mania concerning his star status when it's threatened. If only the rest of the decadent Weiss family had more to do. Cusack gets a few laughs as the New Age-y therapist (his sessions are reminiscent of those between Samantha Eggar and Oliver Reed in Cronenberg's 1979 film, The Brood), but Olivia Williams isn't given very much to do. In fact, Carrie Fisher, playing herself, gets more mileage out of a scene than Williams does. Younger cast members seem equally mixed, including Evan Bird as Benjie, who has the opportunity to settle into his performance a bit after an extremely shrill introduction, and Cronenberg insists on plugging Sarah Gadon once again, here a less than satisfactory ghost, whose materialization feel lacking in energy.
The subplot involving Robert Pattinson (here, he gets to drive the limo) and a romance with the catalyzing figure played by Mia Wasikowski (her role here also reminiscent of a scenario from the wacky family she was part of in Stoker) also ends up feeling rather unnecessary. But what Maps to the Stars does have for it is a galvanizing performance from Julianne Moore as an aging actress desperate to reclaim her past success by starring in a remake of a film made famous by a 'mommie dearest' inspired mom.
The themes and angles made available by such a possibility aren't explored as fruitfully as they could be, and Moore's performance would stand out even more if there had been a better moderated cast of characters. Yet, she steals every scene, adopting a fantastic Los Angeles accent, every line dripping from those glistening, Botox enhanced lips with boredom, aggression, or false statements. She's obviously having a lot of fun playing the monstrous Havana Segrand, a woman desperate for another close-up, if you will. But Moore isn't supposed to be the center gravity of Maps to the Stars. Instead, the main focus is the incestuous clan supposedly being manipulated into some grand scheme at the hands of the deranged Wasikowska. But without the performance from Moore, the film would seem incredibly grating (it's strange to imagine Rachel Weisz in the role, who had been originally cast).
A blazing finale, consisting of a cringe worthy CGI inferno, drops us back into the laps of the troubled brother and sister attempting to reconnect, as we're led to believe, has been there destiny. Whether they be the stars up above or the ones down below, nothing shines forever and it's too bad Maps to the Stars wasn't just a little bit brighter.
Reviewed on May 17 at the 2014 Cannes Film Festival – Main Competition — 111 Minutes
★★½/☆☆☆☆☆