While the City Sleeps: Gyllenhaal Gets His Money Shot in Gilroy's Debut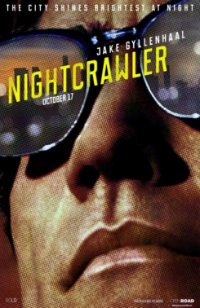 You'll be hard pressed to find a more enjoyably witty criticism of modern exploitative media tactics taken to a new extreme than Dan Gilroy's viciously adept directorial debut, Nightcrawler. Humanity's morbid curiosity with the grisly, disturbing, and depraved happenings in the world around us has long tainted the art of journalism and mass media, and has thus been depicted for ages already in the cinema. Gilroy's film owes as much to Billy Wilder's Ace in the Hole (1951) as it does Sidney Lumet's Network (1976), upping the action ante with the growing Gilroy stamp (his brother directed Michael Clayton and the last Bourne film). And yet, it's an excitingly well written dark hearted treatise with a vitriolic little statement all its own, a glorious new love letter to the seedy underside of Los Angeles, a city that bleeds during sleep.
Lou Bloom (Jake Gyllenhaal) is a petty thief, trying to get by. Interrupted while stealing scrap metal by a security guard, we understand he's prone to violence as well as surprisingly intelligent, though he can't seem to adapt to a successful scheme. Trolling the streets and freeways of Los Angeles at night, he comes upon an accident on the 110 and witnesses a woman pried out of a burning vehicle as a video photographer (Bill Paxton) feverishly takes footage before being barked at by the cops. Lou inquires if that's a lucrative business and is rudely handled. Securing his own camera from a pawnshop, Bloom gets some exclusive footage from a grisly shooting and sells it to the midnight shift news director at a local news station. The headline hungry Nina (Rene Russo) fosters his passion by commenting he has a good eye, but needs better equipment. Unafraid to take extreme risks, the overzealous Bloom soon hires a desperate assistant for navigation purposes, the nearly homeless Rick (Riz Ahmed). But it's not long before Bloom's drive carries him over the edge of rationality and legality.
Gyllenhaal, who lost twenty pounds for the role, gives a performance to relish. Between his double billing of excellent Denis Villeneuve films last year (Prisoners; Enemy) and this film, he's beginning to make good on that promise from the earlier part of his career over a decade ago, starring in films like Donnie Darko and The Good Girl. Apathetic, realistic, driven, and passionate, his Lou Bloom (which has the sort of American ring to it as something like Willy Loman in Travis Bickle clothes) seems to fall somewhere on the autism spectrum, seemingly without a filter that would let him blend into more acceptable social circles. We almost pity news director Nina for allowing herself to be exploited, but this is quid pro quo—she's been exploiting him since their first interaction. In a dog eat dog world, they're a perfect symbiosis.
It's been a while since we've seen Rene Russo front and center so prolifically, and she's sensational—why it's taken husband Gilroy so long to utilize her thus is anyone's guess, but she's Gyllenhaal's exciting equal. During their early, more innocent commiserations, he's in awe of the news station's Los Angeles backdrop, "It looks more real on TV," he comments. And thus, we're at the cultural crux we've been stuck at since the inception of television, something that's only deepened, sickened, and twisted us more so with the glut of reality based programming. Likewise, Riz Ahmed's Rick is another testament to the multitalented performer's range. As much praise as Gyllenhaal's hollowed out, sunken eyed Bloom will generate, Ahmed's Rick, a well-meaning, down on his luck ball of naive desperation, should be acknowledged. Starring in films like Four Lions (2010) and Ill Manors (2012), this latest should finally earn him wider recognition. And Bill Paxton as a crudely aggressive cog in the freelance world of the "stringer" is some inspired casting.
A dark hearted neo-noir of the seedier side of Los Angeles, often neglected now in an era that prizes euphemisms, political correctness, and bright shiny toy cinema, Nightcrawler is violent, funny, and, best of all, well written. You could say it's like a screaming woman running down the street with her throat cut.
Reviewed on September 5th at the 2014 Toronto International Film Festival – Special Presentations Programme. 117 Minutes
★★★★/☆☆☆☆☆