The King of Kong: Columbus Peddles Dopey Sandler Comedy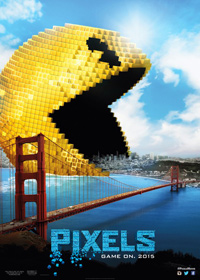 Hailing from some parallel universe where Never Never Land must be the capital is Pixels, a Chris Columbus directed Adam Sandler comedy pasted together by his usual writer, Tim Herlihy and returning collaborator Timothy Dowling (Just Go With It, 2011). If there's anyone to pity here, it's Patrick Jean, the director of the 2010 short film upon which this concept is based. As far as Sandler's handlers go, it's uncertain who or what this feature length version is geared towards, a family friendly package severely dumbed down for the enjoyment of today's tots yet emblazoned with obsolete video games two generations removed from the only audience members unoffended by the laziness and stupidity of the final product. Though some supporting players escape less scathed by this misbegotten lump of a film, Sandler and co. seem tone deaf to the kind of charm they wish to channel, desperately forcing the notion of nerdiness through their juvenile blender of wan ideas to create a mere adumbration of the concept they call comedy.
After an alien race discovers a time capsule launched into space in the early 1980s from an arcade game competition, the message is interpreted as a call to arms. And so, this unknown race fashions their weaponry after these old-school arcade games and their rudimentary rules, plaguing random world cities with these video game figures decimating everything in their path by turning them into pixels. Luckily, the current President of the United States (Kevin James) was involved in these arcade games, and so he calls upon his friend Brenner (Adam Sandler), a champion gamer who never lived up to his potential thanks to being beat out by Eddie (Peter Dinklage) in a Donkey Kong match when they were all youths. Together the trio works together to defeat an enemy that modern combat techniques cannot comprehend.
Before we even get past the 1980s set prologue, Pixels asserts itself as an awkwardly conceived outing, filled with clunky acting as it sets up all of its obvious foreshadowing (on a positive note, the film is at least a hair's breadth better than Herlihy's last pairing with Sandler, the risible Grown Ups 2). Still, every reference to Kevin James as the President of the United States of America takes some adjusting to since a phantom smirk seems to indicate this was an insurmountable pill to swallow for even those making the film. Sandler appears as his usual alter-ego, the melancholy underachiever who has lapsed into a comfortable zone of dysthymic acceptance of his limitations, only to be jolted into heroic antics and romantic entanglements. Since we are so conditioned to this, he almost blends into the camouflage of the film's DNA, while most of his co-stars stick out like sore thumbs.
Poor Michelle Monaghan is particularly vexing as the intelligent, commanding government official in mourning from a recent divorce, reduced to drinking wine out of a Sippy cup as she sobs in her glorious walk-in closet while Sandler's smarmy electronics installation expert provides futile comfort. Moments prior, her son comments on the demeaning nature of Sandler's employment, but it's a question to be posed to the putrid moments Pixels demands of its more deserving cast members, of whom you can include the likes of Dan Aykroyd, Sean Bean, Lainie Kazan, Jane Krakowski, and the usual saving grace of Brian Cox, hired to shout a whole lot here.
Josh Gad has glimmering moments of being a possibly likeable screen presence before disappearing into the muck of the pandering goofball shtick he's already been typecast as, and Peter Dinklage somehow manages to be the only one capable of mastering a tone the rest of Pixels should have captured (which includes a strange aside involving a proposed ménage a trois with Serena Williams and Martha Stewart).
Chris Columbus, responsible for early 90s iconic titles like Home Alone (1990) and Mrs. Doubtfire (1993), not to mention the first two Harry Potter installments one must suffer through before the pace picks up, seems to have abandoned his sense of what entertainment is. Uncomfortably off key and unfortunately reducing itself further being released in 3D, Pixels is the kind of mainstream cinema inciting anger for those expecting a bit of attempted creativity from their offerings at the multiplex.
★/☆☆☆☆☆