Cortes' Latest is a Discordant Rhythm of its Own.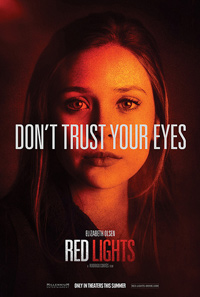 Following up on his excellent 2010 thriller, Buried, director Rodrigo Cortes unveiled his next feature, an elliptical convulsion sporting considerable star power, Red Lights. Cortes' latest reveals itself to be impressively ambitious, but depending on your expectations, could either delight or disappoint. Either way, this brave undertaking is surely not aimed at the masses, and may be destined to be a cult title in an otherwise worn thin genre.
We're first introduced to Dr. Margaret Matheson (Sigourney Weaver), a college professor, and her assistant, Dr. Tom Buckley (Cillian Murphy), a physicist, both traveling the country debunking paranormal activity. While the film sets up their dynamic, they include a new protégé in their investigative forces, a young student (Elizabeth Olsen), concurrently pursuing a romance with Buckley. In the midst of their debunking, a mysterious and legendary blind psychic, Simon Silver (Robert De Niro) resurfaces after a 30 year hiatus, and we learn he is a long-time adversary of Margaret's. As Buckley insists on investigating Silver as a fraud, Margaret warns that, fraud or not, Silver has magnificent manipulative powers, and pursuing him would only result in possible catastrophe. But Buckley becomes more and more obsessed with pursuing Silver, who dropped out of the limelight thirty years prior after his most vocal adversary died mysteriously of a heart attack. As the insistent Buckley presses on, a complicated and tricky narrative reveals itself…and maybe doesn't.
It's explained to us that 'red lights' are really discordant rhythms, something Margaret's team looks for when investigating fraudulent psychics and paranormal activities. And this is the clue to reading Red Lights, where Cortes seems to hold us in a never ending repetitive series of ellipses—we should be looking for the red lights (or as Buckley explains, the success of a magic trick is all about where you don't look). Recalling films like the 1935 Claude Rains' starrer, The Clairvoyant or the underrated Séance On A Wet Afternoon, (and, strangely, maybe even a bit of De Palma's The Fury, if only a Bernard Herrmann score could have accompanied the film), Cortes gives us an excessive amount of window dressing in its first half, only to pull the rug on us with one indefatigably head scratching conclusion. And this is what will either determine your reading of the film as convoluted or harebrained brilliant.
The cast is fair game, with a great role for Weaver as a wry, domineering, and skeptical woman guided by a tragedy from the past (and in a way, she gets to do her own ghostbusting). One particularly claustrophobic sequence has Weaver's Matheson pitted against Joely Richardson, playing Silver's assistant, going toe to toe on a television news roundtable, all tight close ups and whirling jumps , juxtaposed with Murphy and Olsen watching at home. Murphy and Olsen are watchable here, and the increasingly hammy De Niro manages to pull it back appropriately, granting him a seedy, mysterious menace. But when all's said and done, the basic essence seems entirely too simple—like a magic trick, the simpler the better. It's obvious that he's playing with our perceptions and our lust for eye opening entertainment, and the film does manage to be entertaining, but he's created something that's not meant to be a mere thriller. And whether or not you love or hate it, Cortes has created not only a film that lends itself open to interpretation, but one also worthy of multiple viewings.
Reviewed on January 20 at the 2012 Sundance Film Festival – PREMIERES Programme.
119 Min