Mighty Flighty: Nancy Savoca Gives Mira Sorvino a Role to Revel In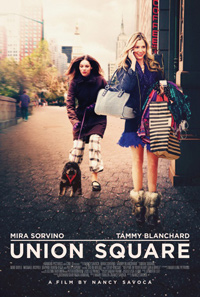 Nancy Savoca returns with Union Square, her first film in nearly a decade, and it's mostly a well executed effort that showcases two talented actresses. While it may not top some of the greater titles in her filmography, this tale of two estranged sisters manages to delight and surprise, even if it does overextend itself during the slim running time.
As the colorful and exuberant Lucy (Mira Sorvino) rides a train into Union Square one hectic afternoon, shopping for discount clothing and sending a barrage of persistent and tortuously written text messages to a mysterious man. We soon learn that she has popped into the city quite unexpectedly from the Bronx, much to the chagrin of her married lover, who firmly informs her that he has no time to fit her in until next week. Tonight is date night with the wife. Lucy becomes quickly unglued, her tornado of emotions spilling into the streets, following her as she goes to see another unsuspecting person, her estranged sister, Jenny (Tammy Blanchard), with whom she hasn't corresponded in three years. Tammy, a vegetarian co-owner of newly started organic foods business with her fiance, Bill (Mike Doyle), is horrified at her sister's sudden appearance and request to stay for a few nights in order to avoid what looks like an impending nervous breakdown. Unable to get rid of her, Lucy immediately invites an old friend over (Daphne Rubin-Vega), while Bill seems confused as to why Lucy has such a thick accent…since Jenny told him she grew up in Maine. As Lucy's presence jars more buried secrets to the surface, including the news that Jenny is on the verge of marrying Bill, in a small, undisclosed ceremony, Jenny's mannered and isolated life is burdened by Lucy's neurotic energy, and instead of coming closer together after a three year hiatus, they may drive each other even farther apart.
The first and foremost reason to catch Union Square is for an immensely entertaining and altogether arresting performance from Mira Sorvino. Bouncing around from television guest spots, various supporting and lead roles in indie features, and a very successful television series over the past decade, the talented Oscar winner hasn't shined so much in a project for quite some time. She's unmannered, unmoored, and unflattering as Lucy, a tacky mess of well meaning but not well thought intentions. One scene with the buttoned up Jenny, and we immediately understand why she recoils from Lucy in barely masked disgust. Tammy Blanchard has the less showy role as the emotionally sterile Jenny, and, in truth, her character suffers from a lack of necessary development, yet her screen time with Sorvino is captivating. There's many questions (wisely) left unanswered about what exactly she's running away from, though some secrets are revealed about a figure from their past and their mother (Patti Lupone). Savoca is working with digital here, which tends to look a little sloppy with some awkward zooms and several abrupt transitions causing some narrative head scratching.
At a running time of 80 minutes, Union Square runs into some threadbare patches, but nothing that isn't quickly dissipated by a passionately endearing performance from Sorvino, a role that manages to let her run the emotional gamut. She's annoying as all hell initially, her blue ostrich feather skirt molting all over her sister's pristine pad, her cell phone constantly jarring us with a sentimental 90's electro club hit, feeding her starved dog she's been carrying in a handbag ginger root and completely unaware of social cues. Or is she? While it never manages to reach a noteworthy comedic burn or fulfill a compelling dramatic arc, there are several heartfelt and intense moments, shared by two estranged sisters that don't exactly mesh.