The Talent Family: Bourdos Abandons Genre for Elegant Biographical Period Piece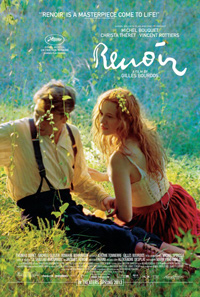 A summer signifying the encroaching end of one artist and the birth of another within one of France's most famous families is the subject of Gilles Bourdos' latest film, Renoir, based on the biographical novel penned by the great grandson of Auguste Renoir, Jacques (himself a notable cinematographer and photographer). A pastoral portrait that often reaches a resplendence with its moving images that evokes the works of its famed subject, this marks an aggressive change of pace for Bourdos, who has thus far seemed most interested in adapting mystery thrillers for the screen (and to middling effect, at least judging from his 2008 English language debut, Afterwards). Managing to avoid the clichés associated with lofty biopics, this straightforward rendering smartly focuses on a slight passage of time and isn't driven by any overtly dramatic scenarios.
Set on the French Riviera during the summer of 1915, Pierre-Auguste Renoir (Michel Bouquet) is living alone with his staff of women and youngest son, Claude, aka Coco (Thomas Doret), while World War I rages on and he waits in hope for the return of his eldest sons, Pierre and Jean (Vincent Rottiers). The unexpected visitation of Andree Heuschling (Christa Theret), a hopeful model who had been advised to seek out Renoir from his now deceased wife, motivates the elderly painter, suffering from rheumatoid arthritis, to paint her. As they develop a working relationship, an injured Jean returns home to convalesce, and he is quickly smitten by the alluring Andree. With her wishes to be an actress, she eventually convinces Jean that he should pursue his interest in cinema rather than re-enlist after his wound heals. With war changing the cultural climate, one muse motivates two men, one at the end of a legendary career, the other just at the beginning.
Languorous, lush, and often mesmeric, Renoir is a visually stimulating enterprise, heretofore unforeseen from Bourdos. While his screenwriting collaborator, Michel Spinosa (an accomplished director in his own right judging from the overlooked 2007 Isabelle Carre vehicle, Anna M.), is again along for the ride, scribe Jerome Tonnerre (of Intimate Strangers, 2004 and The Women on the 6th Floor, 2010 fame) lends his voice to the screenplay, which smartly reveals a slow trickle of notable details about the legendary lives they're portraying. Mark Ping Bing Lee (who shares credit with Doyle on Wong Kar Wai's masterpiece, In the Mood for Love) returns as cinematographer once again for Bourdos, and when he's not framing the warmly lit interiors of the Renoir's home, he's giving us breathtaking shots of expansive, Arcadian landscapes of the forest and the sea. Several sequences are clearly meant as homage to the work of senior Renoir, playing with shifting focus and blur.
Fluctuating between moments of quiet observation and an entrancing score from Alexander Desplat, the audacious figure at the center of Renoir is actress Christa Theret, the muse and lover of father and son. While Michel Bouquet is certainly the most notable name among the cast, the men playing the Renoirs (including the junior member Claude, portrayed by Thomas Doret of The Kid With a Bike) are the detailed and laborious background that accentuate the vibrant color of Theret's presence. While there are certainly a limited number of dramatic sequences, aside from some minor temper tantrums, neither is it really a portrait of the creative process. The abrupt end titles announce briefly terse information about Jean Renoir and his relationship to the actress that would be the muse of his first several features, Catherine Hessling, abruptly and fittingly ending a fascinating look at one very languid summer amongst artists.