Rodin | 2017 Cannes Film Festival Review
The Wails of Auguste: Doillon Presents Shapeless Biopic on the Famed French Sculptor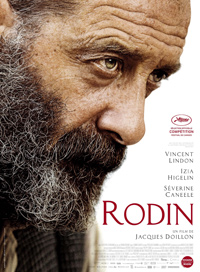 Unfortunately, French auteur Jacques Doillon's high profile remounting of French sculptor Auguste Rodin leaves itself vulnerable to nasty puns about its bloated, ungraceful construction as pertaining to its subject. Although not attempting by any means to be a complete composite of the artist's life, his love, or his works, a bookend of two major pieces provide some sense of timeline in what ends up being a continual series of arch conversations in this rather drab chamber piece drama. While it warms up a bit in the second half, Doillon only manages a rather obscure, even myopic depiction of Rodin's considerable cultural iconography, despite showcasing a cavalcade of notable creative peers who floated in and out of his orbit.
In Paris, 1880, Auguste Rodin (Vincent Lindon) receives his first state commission to create The Gates of Hell based on Dante's Inferno for the planned Museum of Decorative Arts (an establishment which never came to fruition). Out of this project will be born some of his most notable pieces, such as The Kiss and The Thinker, but also marks the turning point for his relationship with his talented student/assistant Camille Claudel (Izia Higelin), who offers to take part on the project and eventually becomes his lover. Forced to share Rodin with his lifelong partner Rose (Severine Caneele) remains one of several factor which sours their romance, further worsened by Claudel's inability to court the same interest in her work as her famed mentor. A decade of distress leads to Rodin's release from Claudel, and focus on another infamous piece, a sculpture of author Honore Balzac, which was never appreciated during Rodin's lifetime.
Doillon is hardly the first auteur to grapple with the more sensational aspects of Rodin's life, made all the more infamous thanks to his volatile relationship with student and eventual lover Camille Claudel. Of course, this relationship was most famously depicted in Bruno Nuytten's 1988 Camille Claudel, which starred a galvanizing, Oscar nominated performance from Isabelle Adjani, while Gerard Depardieu starred opposite as her hulking mentor. In 2013, Bruno Dumont explored the tragic later years of Claudel starring Juliette Binoche in Camille Claudel, 1915, in which her old lover does not appear. The point being, cultural fascination has embraced Rodin's student, or at least his relationship with her, as a juicy cinematic subject.
Poor Izia Higelin (of Catherine Corsini's Summertime) has a lot to live up to, and Doillon's screenplay does a poor job of conveying Claudel's increasing emotional instability, as well as Rodin's complicity. Once Higelin is no longer in the picture, Rodin actually feels a bit more energetic, allowing for a more playful relationship to emerge with first mistress Rose, who has an equally bizarre rapport with the sculptor.
As the titular figure, Vincent Lindon is defined more by his beard than his performance, and there's little chance for him to touch on any real emotional depths concerning his love life or his work with Doillon's script, which calls for an awful lot of extra-long conversations about the nature of art amongst the who's who of the period, with Cezanne, Zola, Manet, and Rilke (a brief bit with Anders Danielson Lie). Undoubtedly on the sluggish side of the spectrum, Rodin doesn't do Lindon, Doillon, or the artist himself any favors.
Reviewed on May 23rd at the 2017 Cannes Film Festival – Main Competition. 119 Mins
★★/☆☆☆☆☆