Somebody That I Used to Know: Mayer Mutates Labute's Misogyny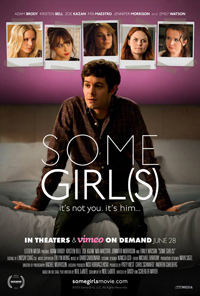 Much has been already been mentioned about Some Girl(s) as a new Neil Labute film, and, in essence, it is actually based on one of his plays. But it's curious to note that the film's actual director, indie stalwart Daisy von Scherler Mayer, often takes the backseat mention. Whether this be the subconscious need to jeer or praise the often divisive work of Labute or a bit of good old fashioned gender conditioning as far as the film's reception goes, approach to critiquing the film is perhaps of its own separate interest. Undoubtedly, Labute is a supremely compelling playwright, and a markedly less successful director (though to be fair, the recent output may have more to do with his choosing questionable material), but Mayer's hand lends the play an unprecedented angle, focusing less on the questionable male protagonist and instead focusing on the perspective of some women who dilute, and sometimes supersede, male agency.
A man (Adam Brody) on the cusp of marriage to his twenty three year old fiancée, decides to take a cross country trip to visit five women from his past, deciding that these relationships, which helped shape him into being the man he is today, need a closure he did not provide. He has become a notable author, and seems to have used his past relationships for material, a la Truman Capote.
First stop is in Seattle to visit his high school sweetheart, Sam (Jennifer Morrison). What seems at first to be a pleasant conversation quickly turns into an awkward rehash concerning, of all things, a snafu involving Prom. We learn the man seemed to have picked up and left without much explanation. Next, he's in Chicago to visit Tyler (Mia Maestro), a sultry sexpot that seems to be very sexually curious about a roll in the hay before the man ties the knot. It's clear he's interested too, until he starts mentioning that Tyler was always kind of number two, as when they were together, he was still pining for the girl he thought was the one, who he had left behind in another city. Then, he's off to Boston to see Lindsay (Emily Watson), an older, married colleague he shared a passionate affair with when he was teaching. It's immediately clear that Lindsay is quite bitter about this relationship with this man, which clearly affected her marriage and livelihood. Vengeance is on her mind, and she cannot forgive the fact that he left without a word.
Returning again to Seattle, the man visits Reggie (Zoe Kazan), the much younger sister of a high school friend of his. It's here where the film morphs into something else entirely. Our perspective of the man and his intentions suddenly changes, and the implications of his actions towards Reggie should have us thinking back, perhaps, on the reunions that have come before. Finally, the man stops off in Los Angeles to see Bobbi (Kristen Bell), the girl who might have been the one if he hadn't also abandoned her….and also if he had managed to avoid hitting on her identical twin sister. Their verbal sparring, resulting in a few more surprises concerning his intentions, provides the film with its strongest interaction, as Bobbie, unfettered by children, husband, or past life changing traumas brought on by this man, refuses to play the manipulative mind game we've all been a part of the entire time.
Of course, you'll immediately notice that all the women have masculine monikers, immediately bringing to question, how much do our gender roles play into how we treat others and how we allow others to treat us? What's acceptable? Labute has always been an expert at showing us nasty man-children and the innate misogyny that accompanies their privileged worldview, perhaps no better so than in his 1997 debut, In the Company of Men. His men are often spineless creatures sapping off the energy and emotion of their female counterparts that, in some instances provide us with strong female characters (such as Abby in his play, The Mercy Seat).
Mayer, who hasn't helmed a film in a decade, often favors offbeat female centered vehicles with great parts for actresses (Parker Posey in Party Girl or Heather Graham in The Guru). Her collaboration with Labute is a darker, mixed bag than we usually see from her. Adam Brody's casting seems rather uninspired at the film's outset, his first two interactions seem amusing, if not quite engaging. He's got the stamp of the intellectual, pretentious author, a cipher for Labute perhaps, and his character has written a novel, "The Calculus of Desire," referring to himself as the fearless cartographer of the human soul." But the film is simply luring us in with its first two girls, putting us at ease for three final conversations with three actresses that make this film entirely worth seeing, those being Watson, Kazan, and Bell.
DP Rachel Morrison (of Any Day Now and Fruitvale Station) gives minimal verve here, but catches faces and emotions deceptively, and, intriguingly, the film becomes more standard looking for the final blowout between Bell and Brody, signaling a thrilling motif of feminine control and agency. The final sequence establishes the potential for a more equal playing field. Some girl(s), a phrase the man uses as a reference for his current fiancée, have become a wiser group of women, their names, verbally uttered, absent of feminine connotation. And even with a final, creepy closing shot simply meant to signify that men like this man may never learn their lesson, Some Girl(s) makes good on the implications of its tagline, "It's not you, it's him."