At Any Price: Aussie Horror Comedy Predictable, Maintains Interest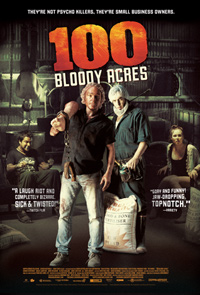 Content with delivering an overly familiar comedy-horror scenario even as it seems committed to bringing both with equal measure, 100 Bloody Acres, the debut film from Aussie brothers Cameron and Colin Cairnes, is never scary, but manages to squeeze some effective gore and several laughs out of its derivative little soul. Rednecks terrorizing/cannibalizing/disemboweling insipidly stupid and attractive but unremarkable city folk that unwittingly stumble into the hellacious rural hinterlands is a horror trademark, but try as it does to remain true to being both funny and scary, the Cairnes brothers end up giving too little of either element to make this effort satisfactory.
Lindsay and Reg Morgan (Angus Sampson and Damon Herriman) are two brothers living in the boonies, running an organic fertilizer business. But times are tough all over, and for economic reasons, the Morgan Bros came up with a nifty (and ironic) secret ingredient for their fertilizer, that being human corpses left behind from auto accidents. Road kill, in other words. However, their supply seems to have dried up, which has the brothers on desperate edge because they have to deliver a new order to an important customer. Luckily, Reg discovers a dead body on the side of the road, and after sloppily tossing it into the back of his truck, he runs into a group of three stranded twentysomethings on the way to a music festival, comprised of Sophie (Anna McGahan), her boyfriend James (Oliver Ackland) and their friend Wesley (Jamie Kristian). Reg hadn't planned on stopping for them, but is instantly smitten with Sophie, who is something of a big flirt. The men ride locked in back while Sophie sits in the cab with Reggie, revealing her rather complicated romantic relationships with both the men in tow. It's clear that Reggie decides he has found the next best thing to road kill, and little do his guests know, they're about to face a heavy grind.
It's obvious the Cairns brothers are well aware of their genre history and insert notable references here and there, perhaps most obviously with their "blue sunshine" acid, which, of course, one character accidentally ingests at an inopportune moment. But nothing feels very innovative about 100 Bloody Acres, which plays like a cross between something like recent Aussie/Kiwi horror entries Wolf Creek (2005) and Fresh Meat (2012). Sure, Angus Sampson gives an entertaining performance as the resident weirdo in control, but his energy is unmatched by every other aspect of the production (though there is one very well placed cunnilingus scene). Damon Herriman is saddled with the playing the doofy brother, who sets the drama into action all over the bosom of the redheaded sexpot he spies on the side of the road. For comedic relief, the trio of victims seem more concerned with the banal love triangle that's been going on unbeknownst to all parties. Unfortunately, this rings false and is instead energy draining. There is a way to effectively and even realistically use this type of distraction (to a point, at least), and something like Gareth Evans' segment of VHS 2 does something quite well with that angle.
Ultimately, 100 Bloody Acres is basically another formulaic exercise. There's horrific deeds being enacted by a crazy leader and his sidekick fool, and to pad out the drama, we have a female with breasts, a cardboard boyfriend, an comic relief third that furthers the drama by a drug hampered escape, and, of course, a corpse to use for gory effect to mutilate in front of the other captives to show that the captors mean business. Since everything seems quite unbelievable, the film is really just a mirror of one of its own set pieces, an abandoned amusement park called Fairyland, where all the attractions still seem operable. Nice try.