Amour Terne: McGowan's Latest a Pedestrian Glance at the Golden Years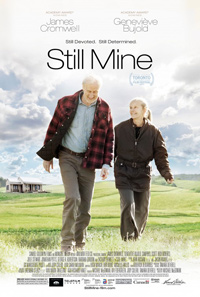 While there's certainly an audience out there that would be more susceptible to the offerings of Michael McGowan's latest effort, Still Mine, it has the misfortune to be released soon after a healthy string of similarly themed (and better made) films contending with aging heterosexual couples. While featuring two well-known leads from the annals of cinema, whose presence here is bound to attract a certain interest to the title, they are unfortunately encapsulated in a film as flat as a plateau and barren as wintry tundra.
Only in contact with two of their seven children, Craig and Irene Morrison (James Cromwell and Genevieve Bujold) are basically left to fend for themselves on their farm and many acres of land in New Brunswick. Forced to sell off his cattle since he can longer take care of everything on his own at 87 years of age, another blow comes when Craig discovers he doesn't have the equipment to properly meet with regulations pertaining to selling off his produce. Worse, Irene's memory keeps getting worse and worse, so much so that she could easily be deemed a danger to herself.
Craig realizes they need to move into a more manageable space, preferably something with one level. Since they can't afford to move and the promise of selling their current home seems futile, Craig decides to build them a whole new house from scratch. He's quickly disappointed when he learns that even though he's building on his own land, he must obtain certification from the local zoning department to do so. Worse, they have strict regulations that require such things as blue prints before building can begin. Craig tries to poo-poo these requirements and starts building anyway, resulting in a cease and desist action placed upon his construction and other eventual legal woes. Craig enlists his family lawyer (Campbell Scott) for help.
Who says real life isn't melodramatic? Still Mine profoundly announces that it's based on a true story, and succinctly throws us two lines to announce a pat conclusion at the quiet finale. While McGowan deserves credit for not dipping this brittle crust into a tearjerker tea, it's hard to stay engaged in a drama that's a twofold tale that can't seem to decide if it's a drama about losing someone you love or about the perils of battling bureaucracy. While it's naggingly more manipulative and features a ridiculous twist, the similarly themed Lovely, Still (2008) is at least more rigorously enthralling. Craig and Irene symbolize a past tradition of lifestyles and customs, what with their brood of seven children, wide expanse of land, and refusal (or inability) to rationalize the need for changing guidelines.
At the film's onset, when Craig is unable to sell his strawberries because he doesn't have a refrigerated truck to transport them in, he comments "there's some kind of regulation for everything nowadays." Yes, because without things like regulations, the chances are higher for making people sick on a mass scale. McGowan presents the tale in such a fashion that, what with Irene swiftly losing her memory, Craig could very well be some octogenarian Josef K. futilely trying to stay in control of a swiftly maddening world.
Thus, while there's a melancholy sadness running throughout Still Mine, especially apparent in quiet bedtime scenes between Irene and Craig, it's hard to empathize with them. The always superb Cromwell is at least given enough screen time to convey a complete characterization, and he makes the film watchable. As accomplished an actress that Bujold certainly is, she's given rather short shrift here, especially when compared to female counterparts in much better films, like Julie Christie in Away From Her (2006) or Emmanuelle Riva in Amour (2012). Instead of a character, she's just a housewife forgetting pertinent details. And the cornball framing, with Cromwell's Craig cheesily couching the explanations for his actions to the judge in a baseball allegory, is too insipidly crippling to any sentiment the film manages to convey.
Ripped from the headlines as they may be, not every news story makes for compelling cinema, and concerning what humans can expect to accomplish out of life as far as the pursuit of life, liberty, and happiness go, Irene and Craig seem quite well off.