Slipping Down Life: Norris' Debut Steeps Notable Performances in Melodrama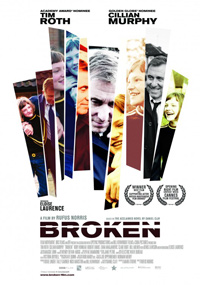 Famed theater director Rufus Norris makes his cinematic directorial debut with an adaptation of Daniel Clay's novel, Broken, which features a highly enjoyable lead performance from newcomer Eloise Laurence. A first rating supporting cast is also responsible for some quietly observed moments, though none of the performers are able to mask the increasing hysterical elements of the film's overly dramatic narrative, which reachs fever pitch by the final frames, reducing the intricate power of its first half. Despite these noticeable shortcomings, Norris' film isn't without notable merit, and manages to sustain a certain level of interest.
In the suburbs of North London, Skunk (Eloise Laurence) a spunky pre-adolescent resides in a cozy cul-de-sac with her solicitor father Archie (Tim Roth) and older brother, Jed (Bill Milner). Mom flew the coop some time ago, so a live-in nanny, Kasia (Zana Marjanovic) has become the replacement mother figure. An alarming instant of violence brought about by a false accusation of rape sees the dysfunctional Mr. Oswald (Rory Kinnear) violently attacking mentally handicapped Rick (Robert Emms) right in front of young Skunk, an event which slowly starts to morph her worldview as she enters middle school.
Just as the entire neighborhood is witness to Rick's spiral into a deep depression as Oswald's three daughters, usually the unchaperoned hellions of the neighborhood, taunt and tease him about the incident, Skunk is also privy to minor drama in her home life. Kasia's longtime boyfriend, Mike (Cillian Murphy), who is Skunk's new teacher at school, doesn't want to commit to marriage. The dissolution of their relationship sees Kasia developing feelings for Archie. As Skunk develops feelings for Dillon (George Sergeant), a boy her age, more drama with Mike, the Oswalds, and Rick culminate in tragic actions.
Even with its arresting opening developments, Broken gratingly asserts its titular motif in nearly every relationship and predicament as a qualifier in every aspect. Homes, promises, truth, systems, etc, indeed, are all broken. Musical cues impede an instance or two, such as some doofy shenanigan accompanying scenes early on when Skunk is introduced to Dillon. While Eloise Laurence easily steals the show as a precocious preteen, the insistence of making her diabetic, as you can of course predict, is a harbinger of doom and gloom.
Roth gives a warm, cozy performance as her harried father, while Murphy's understated turn feels like more of a distraction. Director of photography Rob Hardy, who has recently worked with some significant UK directors (including Julian Jarrold and James Marsh, not to mention Joshua Marston), gives the film a distinctly lived in feel, though the film's look, too, has a reduced charm due to the overloaded dramatics. Though menacing, Kinnear and his clan of ginger girls are wanly drawn caricatures of white trash, their own broken home life acting as catalyst for the dire circumstances that affect all the main characters and simply plays like gross manipulation.