Demon in my View: Wan's Latest a Delightfully Spooky Throwback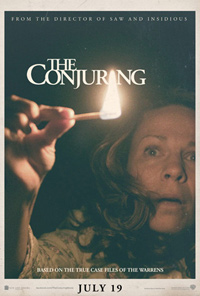 James Wan, notorious nearly a decade ago for helming the first Saw film, has clearly graduated into one of the most notable American voices in the horror genre working today, following up his spooky 2010 film Insidious with another equally thrilling exercise, The Conjuring. Wan stated his aim was to make a film in the vein of classic studio horror films from the late 70s, and he indeed succeeds with his expertly crafted throwback to a time when less was more. Based on a true story concerning the same paranormal couple involved with the infinitely more famous Amityville Horror case, Wan's latest may only lack in comparison to his previous title due to familiarity with this sort of material, as well as the trappings implied by the true story formula. But needless to say, you won't see a better crafted creepathon come out of the studios anytime soon (unless it is this Fall's Insidious: Chapter 2).
It's 1971 and the Perron family has moved to the middle of nowhere in an old farmhouse outside Harrisville, Rhode Island. Carolyn and Roger (Lili Taylor and Ron Livingston) and their five daughters seem to be the perfectly hewn nuclear familial unit. Of course, it's not long before an insidious presence slowly makes itself known, little by little, to the happy family, first dispatching the wary family dog, Sadie. As dread mounts, Carolyn becomes terrified, and after an extremely terrifying happening, seeks out the help of renowned demonologists, Ed and Lorraine Warren (Patrick Wilson and Vera Farmiga).
It's immediately apparent to Lorraine that bad things have happened in the farmhouse and the property needs to be cleansed. To do that, they must acquire permission for an exorcism from the Vatican, which requires they document proof of a demonic interloper. The Warrens set up camp at the Perrons' and it's not long before there's much more than things just bumping in the night. It seems the last investigation the Warrens engaged in took a lot out of Lorraine, and each subsequent involvement with the demonic world seems to take more and more out of her. As Ed fears for his own wife's health, they realize they can't abandon the Perrons' as they realize the force they are dealing with is wildly more malevolent than they at first predicted.
Wan seems to have left his Splat Pack days behind him, for just as he accomplished with Insidious, the fear he provokes through notable restraint is quite considerable. While similar in tone, a family with small children terrorized by possible supernatural or demonic forces requiring the visitation of a paranormal team, The Conjuring is a different beast, saddled with the very material it's based on taken from the "files of the Warrens." Wan downplays the religious angle, and the Perrons are (thankfully) a noted non-religious entity themselves. However, anything involving the Vatican and evil demons requires a certain amount of religious belief to be completely effective.
Anyone familiar with the Warrens and their involvement with the Lutz case in Amityville should know that they were as deeply religious as those that damned them as occultists. Lorraine, still alive today, popped up in last year's documentary, My Amityville Horror (and so you might recognize her in a cameo in Wan's film in one brief moment), so those familiar know that she was much more religiously oriented than what is hinted at here. To its detriment, we don't get a very good idea of the Perron family dynamics. Sure, they're blue collar, but despite the eldest daughter's reservations about the recent move, they seem cookie cutter perfect, unlike the troubles and foibles of Wan's modern portrait of the Lamberts. The always superb Lili Taylor is a welcome presence here, but her banter with Livingston is a titch too cornball in several instances. Better utilized are Wilson and Farmiga as the demonologists, with Farmiga especially standing out as a warm, elegant, and graceful presence.
Wan continues his fascination with creepy dolls, as the film opens with the Warren's handling a case in which a creepy demon has attached itself to a doll terrorizing two young nurses. Fortunately he avoids dipping into camp territory with his props, which crippled his Dead Silence (2007). However, once again, Wan proves he's unparalleled at creating some of the creepiest, most sinister faces in horror cinema. A demon hanging over Lili Taylor and the aforementioned doll, Annabell, are evidence of flair for visual eeriness.
Once again, Joseph Bishara's original score knows the supreme and essential essence that music has in the buildup of foreboding tension, here mixed with Wan's offbeat but notable selection of relevant tracks, from the more clichéd used of The Zombies "Time of the Season" to the more inspired inclusion of Donovan's "Hurdy Gurdy Man." Add to this a fantastically realized set and sound design and you'll see evidence of the dedicated team behind The Conjuring that knows full well how to create one helluva spellbinding horror film.
Reviewed on June 21 at the 2013 Los Angeles Film Festival – Special Screenings