Unlawful Entry: Donohue's Debut a Promising Idea with Faulty Execution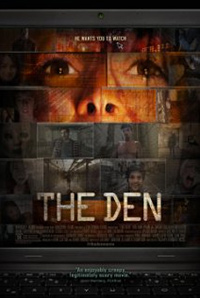 Director Zachary Donohue brings the home invasion thriller to the millennial doorstep with his directorial debut, The Den. Unfortunately, the advanced technology that furthers the narrative of his film gets reduced to a gimmick, wedding itself to the same glorious faults of the found footage genre as it manages to arrive feeling just a titch outdated already, as well as managing to be a visual eyesore with its insistence on unfolding almost exclusively from computer and/or phone cams. Distant, very distant echoes of classic women in peril films from the vaults of vintage Hollywood may put one in mind of something fun and classy (and incredibly campy) like the sickly Barbara Stanwyck character in Sorry, Wrong Number (1948), an element that lends Donohue's material incredible and unprecedented mileage in building tension. But an eventual marriage with standard torture porn byproducts reduces the film to that wide ranging catalogue of utterly forgettable low budget indie horror flicks.
Elizabeth Benton (Melania Papalia) is pursuing a grant to study habits of webcam users utilizing on online chat site called The Den, which operates exactly like Chatroulette. As we observe Elizabeth strictly from her computer monitor, located in the safety of her apartment, we learn that she's struck a casual dalliance between two male admirers, the seemingly more established Damien (David Schlachtenhaufen) and a questionably more age appropriate option, Max (Adam Shapiro). Learning via online chat that she's been awarded the grant, Elizabeth happily sets off recording each and every social interaction she experiences in The Den, even inviting best gal pal Jenni (Katija Pevec) over to join in on the fun. But it's not long before Elizabeth stumbles upon something quite eerie when a creepy user keeps reaching out to her before revealing what looks to be the brutal murder of a young woman. Taking the footage to the police, who admit the footage looks disturbingly real, Elizabeth is basically told there's not much they can do. As the strange stalker begins to make more insidious moves that affect Elizabeth's life, which threaten the continuation of her grant, the safety of her older pregnant sister (Anna Margaret Hollyman), and the three chums from her close personal circle, Elizabeth's safety seems to be in danger and there's no one to help her out.
A major problem with most found footage films is that there comes a logical point when the camera operator would stop filming, and so is the almost immediate case here. But since we depend almost entirely on Elizabeth's POV via her webcam (until the last third switches to the POV of some other characters in order to further the story), we all get forced into that gummy corner of watching something that wouldn't logically transpire. (For those familiar with the actress playing her sister, Anna Margaret Hollyman, they'll take note of how utterly wasted she is in a minor supporting role here).
That said, Donohue, along with co-writer Lauren Thompson, do have a genuinely creepy idea at hand, and the dangers and consequences of unprecedented access to personal information via seemingly innocent avenues of social media are certainly rife with potential—if only we weren't forced to funnel the story through same said social media. Cinema is supposed to be a visual medium, and chumming with Elizabeth strictly through her real time interactions quickly feels tedious, partially due to the repetitive and drab visual scheme this creates.
And kudos to anyone who can exactly recall what her research pertains to by the closing credits, a project which has one online contact comparing Elizabeth to Jane Goodall (which happens to be a bright spot of cutting commentary since the veil of anonymity seems to reduce social interactions to more rudimentary, base behaviors, as observed by multiple swinging dicks and various other penis joke footage Elizabeth encounters). Add this to the fact that Elizabeth is never quite compellingly rendered, portrayed by Papalia as a vapid and altogether unmemorable protagonist. Upon her assailant hacking into her computer (which, as it's related visually, will put you in mind of many supernaturally related J-horror titles), Elizabeth questions computer savvy Max, "Can computers just turn on by themselves?"
More notably unnerving, and perhaps unintentionally, are the automatic messages displayed when clicking between chat users, the system telling us we're "searching for someone new." It points to a bleak truth that social media, which hasn't even reached a zenith, posits us in a never ending search for "more," "new," and "other" experiences, a concept that the parameters of The Den can't quite contend with either as a horror film or a commentary on the uncharted evils hiding beneath our prescribed emoticons.
★ 1/2 / ☆☆☆☆☆